Story by Mariana Dale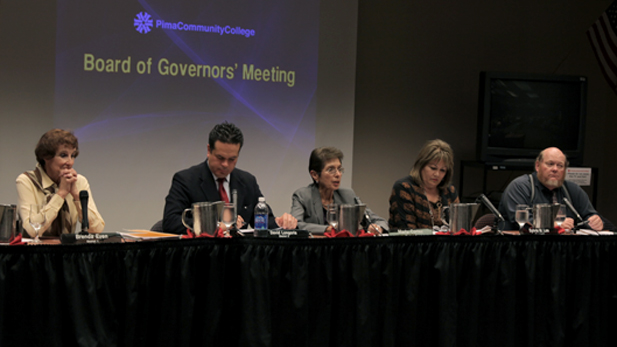 Pima Community College Governing Board. (2013)

Fernanda Echavarri
The Pima Community College Governing Board voted unanimously Tuesday to fire a consulting firm hired to help select a new chancellor.
The consultant, R.H. Perry and Associates, failed to uncover an audit showing financial misdeeds at a California college that chancellor finalist Maria Sheehan headed in the last decade, PCC board president Brenda Even said.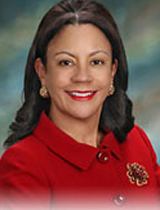 María C. Sheehan. (PHOTO: www.tmcc.edu)
Sheehan, now president of Truckee Meadows Community College in Reno, notified Pima last week that she was withdrawing as a candidate for the chancellor position.
"They have failed pretty much in every way to live up to their end of the agreement. I think it's pretty outrageous," board member David Longoria said. "This action taken by the board is an expression of the complete loss of confidence in the consultant that we hired."

The board also unanimously approved a new contract with the Association of Community College Trustees to continue the search for a chancellor. Board members said they are still on schedule to hire a new chancellor by July 1.
Terrence Burgess, president of San Diego City College is the other finalist whose name was presented to the board. He will remain a finalist as the new search begins, Even said.
The Reno Gazette-Journal newspaper reported Friday that Sheehan was chief executive of the Desert Community College District in Palm Desert, Calif., during a seven-year period of potential fraud there.
The newspaper said that from 2003 until two years after she retired from the position in 2010, the district "improperly and knowingly claimed excess state apportionment funding," according to the California Community Colleges Chancellor's Office.
An audit conducted in November 2012 by California's Fiscal Crisis and Management Assistance Team revealed that the district was overpaid $5.2 million during that period and that the state would collect it in full, the Gazette-Journal said.
Pima is seeking a chancellor to replace Roy Flores, who went on medical leave in 2011, then resigned last year as chancellor after a tumultuous period in which he was accused of harassing female employees.
Suzanne Miles is serving as interim chancellor.
Mariana Dale is a University of Arizona intern at Arizona Public Media
Fernanda Echavarri contributed to this story