The latest winter storm will arrive Tuesday night. Forecasters are predicting up to a half-inch of rain in the Tucson area, with more in some desert areas. Parts of Mt. Lemmon above 7,000 feet could get up 19 inches of snow. Flurries are even possible in Tucson Wednesday afternoon and night.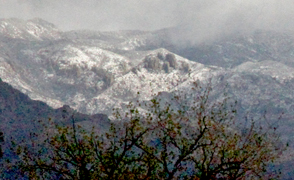 Snow on the lower ridges of the Santa Catalina Mountains (PHOTO: Mark Duggan)
A winter storm warning is in effect for most of Wednesday above 3,000 feet in Pima, Santa Cruz and Cochise Counties. A blizzard warning has been issued for many area mountain ranges, including the Santa Catalinas, Rincons, Huachucas, Chiricahuas, and Pinaleños.
High winds are also likely Wednesday. J.J. Brost with the National Weather Service in Tucson says gusts could top 40 miles per hour in Tucson and 55 miles per hour in higher terrain.
After the storm comes an extended period of cold temperatures. Tuesday may be the last 70 degree day for the next week.