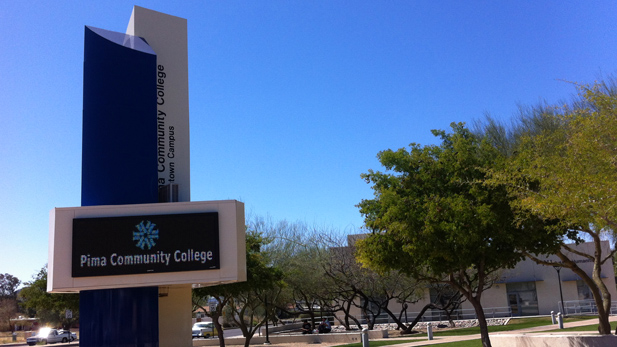 Pima Community College Downtown Campus.

Fernanda Echavarri, AZPM
The president of the Higher Learning Commission has recommended that Pima Community College be placed on probation.
The Chicago-based commission, which is the accrediting agency for PCC, sent a letter and a 30-page report Friday to PCC's interim chancellor, Suzanne Miles, detailing the possible sanction.
They focus on financial accountability, the awarding of large contracts without bids and allegations of sexual harassment and other complaints against Roy Flores, who was Pima's chancellor until last year.
After receiving numerous complaints about Pima, the Higher Learning Commission sent four representatives to Tucson in January to investigate the allegations. They interviewed 58 people, including staff, governing board members and the interim chancellor.
The fact-finding team wrote there were "serious concerns" over a wide range of allegations, including lack of college response to complaints against Flores.
"Despite opposition from the community," PCC toughened its admission policies, something the commission said "shows lack of understanding of its role to serve the public," according to the report.
"Commission policy permits me to take a recommendation to the board for a sanction when there is information that indicates an institution is not in compliance with the criteria for accreditation," wrote Sylvia Manning, the Higher Learning Commission president. "I have concluded that the team has presented substantial evidence of non-compliance by the college with several core components."
If the commission's Board of Trustees follows Manning's recommendation to put PCC on probation, the college will have two years to fix its problems or it could have its accreditation revoked.
The governing board met Saturday to discuss the findings, a day after PCC received the report. Pima Community College has until March 29 to respond to the report before the Higher Learning Commission's Board of Trustees makes a decision April 6.