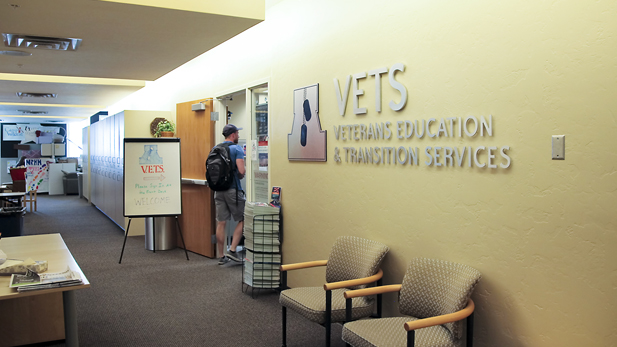 The Veterans Education and Transition Services (VETS) center on the fourth floor of the University of Arizona Student Union provides student veterans with a study space and resources to help navigate civilian life.

Hannah Gaber
Veterans' transition from military to civilian life affects many more people than the former service members, and a number of Arizona programs are working to ease that shift.
More than 500,000 veterans live in Arizona; nationwide, there are more than 2 million veterans of the wars in Iraq and Afghanistan. At the University of Arizona, more than 900 former service members enrolled in classes in the 2012-2013 academic year.
The UA chapter of the Student Veterans of America connects veterans to resources for homework help, mental health care and a network of other student veterans.
Retired military police officer Ricardo Pereyda is president of the club, which is housed in the Veterans Education and Transition Services office, known as the VETS center. Such support is crucial for veterans adjusting to life out of the military, he said.
"It's not a want; it's a necessity. This is saving lives here. We're going to have a big impact on our nation and as a result, on our world," said Pereyda.
High suicide and substance abuse rates are among the issues facing veterans, and those are some of the most important issues the Student Veterans of America and the VETS center try to address, Pereyda said.
Earlier in the year, the U.S. Department of Veterans Affairs reported that suicide rate among veterans is higher than previously thought, peaking at 22 a day.
A recent report from the Substance Abuse and Mental Health Service Administration found 11 percent of Iraq and Afghanistan veterans had been diagnosed with a substance use disorder. The report said 22 percent of those with post-traumatic stress disorder also had substance use disorder.
The study also found veterans with mental health diagnoses were more likely to be prescribed opioid medications, and to use them more heavily.
To discuss those issues, the experiences of student veterans, and questions the public might submit, Pereyda has organized a panel to offer options for veterans and the community and help them integrate with each other, he said.
"Think of this as a preliminary panel, if you will [to talk about] what's going on, what are we seeing, can we do anything about it ... the answer's got to be 'yes'," Pereyda said.
The panel will include Michael Marks, lead psychologist for the Southern Arizona Veterans Association Health Care System; Peggy Glider, coordinator of evaluation and research for the UA Campus Health Service; Abel Moreno, veterans' services coordinator for La Frontera behavioral health center; and Janet Olson, program coordinator for healing touch therapy at the UA Disability Resource Center.
Healing touch
Healing touch is an energy therapy similiar to acupuncture or reiki, and is an expansion on touch therapy with a nursing background, Olson said.
"You're finding areas [of] congested energy and using techniques to balance that energy out … so that the person has an opportunity for their own self-healing," Olson said.
During the school year, healing touch sessions were held at the VETS center once a month, and the disability center offers weekly free appointments to veterans year-round. A component of the treatment is teaching people methods of calming and healing themselves, Olson said. Methods include breathing and using pressure points or guided imagery, she said.
A study at the center in 2011 followed 24 participants who received at least four healing touch treatments. Results included reductions in depression, anxiety and sleep trouble.
While the calm feeling itself is beneficial, it also gives people an experience to revisit in times of stress, Olson said. Veterans are trained to think and react quickly in the military, she said, and "triggers" like crowded classrooms or sudden noises can present challenges.
The techniques taught in healing touch sessions help many people to "take enough of a moment to get out of some of the reactive ways in which they normally deal with things," Olson said.
Peer Counseling
Adjusting to civilian situations is something Moreno also focuses on in the peer groups he runs for veterans, he says. Military culture can discourage open conversation, especially on sensitive and personal topics, said Moreno. He said approaches to working with veterans should take into account that they are often coming from an environment in which talking openly is stigmatized.
Many of the veterans Moreno works with go to multiple groups a week, and when he meets with them, many participants tell him they do not feel any different, he said.
"So we have … to say 'OK, is the dialect we're using in order to reach you making sense? Is the talk real enough for you to come out and say what you need to say: what the problem is?'" Moreno said.
A relaxed, conversational approach, rather than a structured formula such as assigning subjects for group discussion, can help take the pressure off so veterans feel comfortable bringing up issues on their own, he said. One of the biggest challenges for service members is translating their military experiences and military identity to life out of uniform, Moreno said.
"'As a soldier, I'm pretty good. As an airman, I'm pretty good. As a sailor I'm pretty good. As a Marine, I'm pretty goo. But when it comes to being a well-loved, well-received person, that's something I want to navigate now," he said. "And ultimately, we will see that our service does matter. But in the end, that is what we really truly are looking for: to be well."