For as long as she can remember, filmmaker Lisa Klein has been thinking about bipolar disorder.
The seed of her interest in this often misunderstood mental illness was planted a long time ago, when she was a child in awe of her older sister.
"I grew up with a sister 11 years older than me who was dealing with bipolar disorder," she says. "I didn't have a clue what was going on, it was just a lot of confusion and a lot of mood changes ... and seeing the stigma that was wrapped around it and the shame."

Klein lost her sister to the illness, but its presence in her life persisted. Then, in May of 2008, she read a New York Times article about Liz Spikol, a writer for the Philadelphia Weekly who is open about her struggles with bipolar disorder, and everything clicked into place.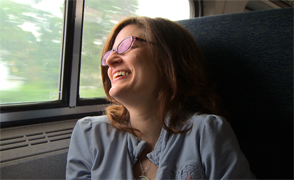 PHOTO: Courtesy of Lisa Klein and Douglas Blush
Writer Liz Spikol helped inspire filmmakers Lisa Klein and Douglas Blush to make "Of Two Minds," a film about living with bipolar disorder.
"It was really an impulsive and 'aha!' moment where we just said we're doing it," Klein says. "I don't know where we'll get the funding or anything, but we're doing it. It went from being just a passion project in my head to where we just went for it."
That was when Klein and her fellow filmmaker and husband, Douglas Blush, began filming "Of Two Minds," an exploration of life with bipolar disorder. Spikol became one of the subjects of the couple's film, along with artist Carlton Davis and Cheri Keating, a young stylist working in the entertainment industry.
Klein and Blush followed their subjects for three years, filming their struggles and successes—and in the process, Blush says, transforming their own perspectives on mental health and mental illness.
Media depictions of mental illness as associated with violence or horror belie the fact that "there are so many great people living with [mental illness] every day who are doing great work," Blush says. "And those are the people who don't get talked about ... so, for me, that was a great education."
For Klein, making the film became an opportunity to find a measure of peace with her sister's life and loss.
"It was one of those things where I felt for the first time that I was running toward something instead of away from it," she says. "There is more clarity, and it's a gift given to me by the people in this film."
The couple hopes audiences will experience the same awakening, Blush says.
"The greatest thing we can hope for is that we break down some of the stigma and some of the closeting that goes on with the condition," he says.
Tucson's screening will take place Tuesday at 7 p.m. at the Loft Cinema. A panel discussion and Q&A will follow, and it will include Blush and several mental health advocates and counselors, as well as individuals living with bipolar disorder. Tickets and more information are available here.