Davis-Monthan Air Force Base will see 1,300 civilian employees furloughed this summer as part of the Department of Defense effort to meet federal budget cuts.
That's about 10 percent of the base's workforce, said Col. Kevin E. Blanchard, base commander.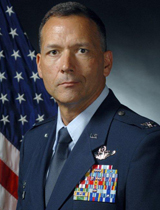 Col. Kevin E. Blanchard is commander of Davis-Monthan Air Force Base in Tucson (PHOTO: Courtesy U.S. Air Force)
"We have 1,300 Department of the Air Force civilian workers here across the installation, that work in every aspect of what we do, from office staff functions, to aircraft maintenance functions to civil engineering functions," Blanchard said.
Each of them will be required to take one day off a week for 11 weeks. The furlough period runs from July 8 to Sept. 30, the end of the federal fiscal year.
"It's going to be tough to get by with all of them having to take 11 days unpaid, but we're most concerned about them and their families, Obviously this is a 20 percent pay cut for 11 weeks. That's going to hit all of them financially, especially some of our low wage grade workers where maybe they're the only bread winner in the house," Blanchard said.
The base will prioritize work in order to keep the most important functions covered, he said. Military employees may pick up some of the work civilian employees were doing, in order to keep those priorities functioning, including training A-10 pilots, he said.
U.S. Rep. Ron Barber, D-Ariz., criticized the Defense Department cuts. Earlier this week he said the civilian workforce furloughs are not a responsible way to handle the required budget cuts.