The Splendid Table joins the NPR 89.1 programming lineup on June 1. The program will air Saturdays at 1:00pm. Mark McLemore talked to host Lynne Rossetto Kasper about what listeners can expect from the show:
Every week, on the public radio show The Splendid Table, host Lynne Rosetto Kasper and her guests do their best to make stomachs rumble, mouths water and imaginations race.
The show's motto is "the radio show for people that love to eat."
But The Splendid Table is not a cooking show.
"We're a show that looks at food from just about every possible angle," Kasper said.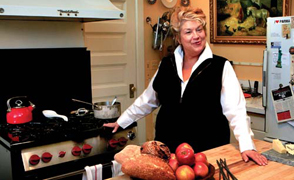 'The Splendid Table' host Lynne Rossetto Kasper

American Public Media
"Actual cooking, humor, politics, science. And what you hear is generally interviews with people of all kinds of backgrounds."
The show also features new recipes and lots of ideas on how to brighten up a meal. But it's equally accessible to dedicated gourmands and kitchen-averse microwavers.
"Sixty percent of the people who listen to this show and are fans of it have no intention of walking into a kitchen under their own volition," Kasper told McLemore.
"And that's really wonderful to me. Because the point here is that what we've discovered food is far more than cooking.
Kasper admits she thinks it would be wonderful it everyone cooked their own food.
"But we're looking at food now in very different ways," she said. "We've been doing the show for 18 years. When we first started the show, we talked about local, sustainable and organic. And we always had to explain it. I don't have to explain it anymore when we mention it on the air."