Mt. Lemmon has long been a place that Tucsonans can go when they need a break from life in the desert.
The small mountain community feels a little more remote lately. That's because a disagreement between a cell phone tower owner and a service provider has left the area without coverage.
When driving up to Summerhaven on Mt. Lemmon Highway, cell phone coverage first drops at around milepost three.
From there, you enter into an anomaly in modern society: an area where a cell phone signal is rare.
Much of Mt. Lemmon and the community of Summerhaven have been without cellular phone coverage for over six months.
"There was a dispute over the use of the tower," said longtime resident Robert Zimmerman. "T-Mobile decided to not make their frequencies available any more for some reason."
Locals all tell a similar tale.
They said, shortly after Thanksgiving 2012, the company who owns the cell phone tower in Mt. Lemmon, Commnet Wireless, changed the rate charged to cell phone providers wanting access to the tower.
The Commnet cellphone tower is located among the antennas on Radio Ridge, down the road from Mt. Lemmon Ski Valley.
T-Mobile was the lone company on Commnet's tower. And, after the price increase, they decided to pull out.
Both companies were asked for comment about the change, but neither returned our requests.
Many residents heard rumors that Verizon would step in to take over cell phone coverage in the area, but that never came to fruition.
Since no company has stepped forward and taken over T-Mobile's spot on the mountain, much of Mt. Lemmon is without coverage.
Signal seems to come and go with line-of-sight to nearby communities such as Tucson or San Manuel. Scenic viewpoints and peaks are areas that have coverage, whereas canyons and valleys often are without.
And it is the talk of the community.
Patty Thomas and Donna Roll often host weekend garage sales in Summerhaven.
Joyce Anderson and Jennifer Shacter gathered there, talking about the cell phone issue and how having a cell phone around saved a neighbor's house from a fire.
Anderson: "She went in the middle of the street and was able to call for help then. It gutted their house, but if she hadn't had her cell phone, where would they have run at 3:00 in the morning?"
Roll: "We weren't that far away and we could see it, but we didn't know until the sirens came that it was on fire."
Anderson: "It's critical because I don't know that Tucson has a full understanding of how valuable is as a tourist attraction, and it's not optional."
Thomas: "I know they've had issues with people coming up the mountain and there being accidents on the road, and you can't even get 911."
Summerhaven is the permanent home of about 50 people. And, thanks to plentiful hiking, mountain climbing, fishing, seasonal skiing and temperatures that are about 20-degrees cooler, it is a playground for Tucsonans on most weekends and holidays.
The number of visitors to the mountain is estimated to be 1.5 million people per year.
"Until you need (cell phone signal), you don't miss it," said Mike Ostrom, a weekend visitor who rode his motorcycle to Mt. Lemmon Ski Valley. "You're taken in by the beauty and the ride, so it's not much of an issue. But when you need it, you need it."
The highway up the mountain can be packed with cars, motorcycles, and bicycles. Sharing a windy road can often mean traffic accidents. Those accidents can cause injuries that require immediate medical attention.
Mt. Lemmon Fire Chief Randy Ogden had just returned from responding to a motorcycle crash when we spoke with him.
"Had we been delayed 20-30 minutes by the time we got the call —maybe a 10-minute response time—then we have to take that person to the trauma center," said Ogden. "By ground it's an hour-and-a-half, by air about 15 minutes. If you start adding up all these little minutes, it's really cutting into the golden hour. Your chances of survivability are much, much less."
The roads on Mount Lemmon often run through canyons, and while those on high ground can find cell reception, it is near impossible to find in low-lying areas.
And the lone payphone, located at Summerhaven's post office, has been out of order for months.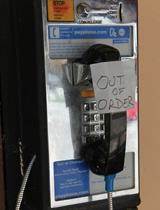 The only payphone on Mt. Lemmon, located at the Summerhaven post office, has been out of order for months.
That means drivers on the mountain's main road are limited to the emergency call boxes located at the Palisades Ranger Station and in front of the fire department.
Those locations have more than 10 miles between them, meaning that precious minutes are lost in life-threatening situations.
"It's significant" said Ogden. "The amount of time it takes them to get to 911, for 911 to dispatch us, and for us to respond, you're way over your allotted time."
Jesus Canales is a captain paramedic on the mountain. He was also at the scene of the motorcycle crash.
"It takes away 10 or 15 minutes from the time that you would normally have," said Canales.
"10 or 15 minutes means a lot there. Just think of how many rounds of CPR you could do on somebody who has lost their pulse."
Injured motorists are not the only people who could face consequences due to the lack of phone coverage.
"People can't call 911 if they're coming up the mountain, so it's a public safety issue," said Bill Brown, resident and volunteer firefighter.
Locals also have another fear: The ever-present danger of fire.
Debbie Fagin owns the Living Rainbow Giftshop. The shop's original building burned to the ground 10 years ago when the Aspen Fire destroyed a large portion of Summerhaven.
"We depend on the public; they've been very helpful," said Fagin. "This is their mountain too, and I would say at least 60 percent of the calls coming in about fires are (people) traveling on that road all hours of the night."
Power outages and loss of land line phones is not uncommon for Summerhaven. Meaning, a cell phone is the only way to reach emergency services, especially during a heavy winter snowstorm.
One of the yard sale attendants, Donna Roll, would have been stranded in her home during a snowstorm two winters ago if not for her cell phone. The electricity had turned off.
"I was up here by myself," said Roll. "And, if I hadn't had my cell phone to call the electric company, dear only knows when they would've come up because they didn't know it was out."
Mt. Lemmon residents are equally inconvenienced by the lack of coverage, but they don't know how to address the problem.
Any attempt to contact Commnet has not been returned.
The area remains uncovered, so the residents are starting to plan as if it may never return. Many residents have once again signed up for landline phone service despite its unreliability.
Fire Chief Randy Ogden said they are also petitioning for another solution to the traffic accident problem.
"If we had three or four more emergency boxes along the highway, it would sure cut down responses," he said.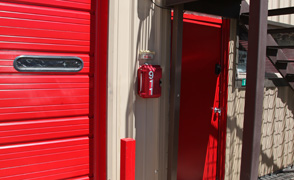 One of two emergency phones located on Mt. Lemmon. This one is located at Mt. Lemmon Fire Department near Summerhaven. The other is at the Pallisades ranger station.
"At least people would know where to go to call," Ogden said. "At least 90 percent of people, (who) come up here assume that their cell phones (will) work."
But, there is no solution to help those in more remote locations.
Until service is restored, those traveling into the area for activities such as hiking are reminded to take precautions beforehand.
It is recommended to let others know where you are going and when you'll be back. Also, bring items such as water, food, a compass, jacket, and a first-aid kit.