Listen:
The Arizona State Museum launched two new databases showcasing textiles of the Southwest.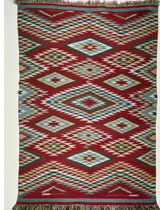 Navajo Sarape, circa 1840-1860. Courtesy of Arizona State Museum.
The first, called the ASM Southwest Textile Database, has more than 600 textiles from the museum's collection.
The second, called the Joe Ben Wheat Southwest Textile Database, includes more than 1,300 works from other public collections.
The databases are the result of decades of research by the museum's recently retired curator Ann Hedlund and the late Joe Ben Wheat, both textile authorities.
Hedlund, a cultural anthropologist and retired University of Arizona professor, helped to bring the databases online.
"The databases are interactive, so when you open them up you can ask to see all of the chiefs' blankets across the different museum collections, or you can ask for all of the different pieces that have a star motif in them, or have a checkerboard motif," Hedlund said. "There are lots of ways to query the databases with the technical details."
Most of the textiles in the museum's collection are from the 19th and early 20th centuries. The textiles in the databases represent works from the Pueblo, Navajo, and Spanish-American cultures.
Listen to a longer version of this interview, as aired on Arizona Spotlight: