Listen:
Amy Zenizo has been helping women deliver their babies at home for more than two decades as a licensed professional midwife.
"This is the best job in the world for me," Zenizo said.
Zenizo attended Maternidad La Luz, a midwifery school in El Paso, Texas. Then, she apprenticed with two Tucson-based midwives for four years prior to starting her own local practice.
The midwife said she delivers two to three babies a month. Expecting mothers come to her home office for most of their appointments. And, when it's time for the women to give birth, Zenizo takes care of them at their homes.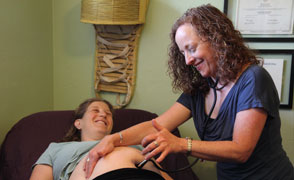 Midwife Amy Zenizo examines Dana Helfer, who is expecting her second child.

Laura Palmisano
"Sometimes when people can't come (to my home office), I go to their home instead," Zezino said. "But I think people appreciate seeing who I am and where I live so they get a sense of what I am like."
Arizona has two types of midwives.
A certified nurse midwife is a registered nurse with a formal education in midwifery and regulated by the state board of nursing. There are also licensed professional midwives who apprentice under seasoned midwives to learn the craft.
Licensed midwives attend one percent of all births in the state, according to the Arizona Department of Health Services.
Recently, the department of health overhauled its regulations for licensed midwives. Zenizo, alongside other midwives, worked with the agency to update these regulations. It was the first time rules governing licensed midwives had been changed in 18 years, she said.
"There (were) a lot of gray areas about what to do with certain things, and we had to make our own decisions about when to consult but it wasn't really defined in the law," Zenizo said. "Now, it's much more explicit. And, we have a much more defined scope of practice."
Under the new regulations, a person looking to become a licensed midwife in Arizona needs to be certified through the North American Registry of Midwives. The state's department of health will no longer license midwives, but it will continue to regulate them. There are about 60 licensed midwives registered with the state.
Midwives that were already licensed before the changes don't need additional training, unless they want to handle more complicated births, such as delivering breech babies or treating women who have had a previous caesarian section.
Starting in Oct. 2013, mothers have to sign a form that says they understand the services a midwife provides and consent to their care. Women can also opt out of certain tests, as long as they sign a form stating they understand the risks of declining testing.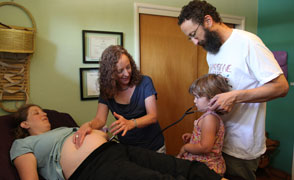 Dana Helfer's three-year-old daughter, Hazel, listens to the baby's heartbeat with the help of her dad, Paul, and Amy Zenizo.

Laura Palmisano
In July 2014, Arizona midwives, who obtain a license through the NARM, can deliver breech babies and provided care to women who've had a C-section. Zenizo said the new midwifery rules make her job easier because the regulations now clearly state what she can and can't do.

"I think the changes are good," she said. "I am very excited to be able to, eventually, work with clients who have had a previous (C-section). I've had to turn many (women) away because (they were) outside of our scope (of care)."
Dana Helfer, her husband Paul, and their three-year-old daughter, Hazel, recently visited Zenizo for an appointment. Zezino helped deliver Helfer's first child too.
Helfer is expecting her baby in the next six weeks.
"I trust in (Zenizo's) experience," Helfer said. "If she felt like something (was wrong)...she'd make (the right) decisions (for me and my baby).
Helfer's next appointment with Zenizo is for a home inspection to make sure everything is in order for her to give birth at home. Under the new regulations, midwives have to do home inspections when a mother is about 35 weeks pregnant.
Zenizo said she plans on taking the national test in February to expand the services she can provide to clients.