Story by:
Fernanda Echavarri and Mitchell Riley
(VIDEO: AZPM)
Recent studies estimate there are 4,000 youth in Pima County who lack a permanent home and are struggling to stay in school – experts say the actual number is higher because youth homelessness is under reported.
Being homeless for young people means not having a permanent home. Bouncing around from family member to family member, or sleeping at friends' houses. Other times, it means sleeping on the streets.
Everett Galusha couch-hopped this year during the summer months after being kicked out of his grandmother's house for disobeying her and breaking curfew, he said.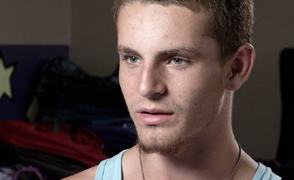 Everett Galusha, 18, Youth On Their Own student.
"I had two or three changes of clothes with me and that was about it. One of my friends, his mom always let me in and then it got to a point where apparently I was staying there too long," Galusha said. "They thought I was just mooching off of them so then I got kicked out of there, and I would ask someone if I could stay the night so I'd stay the night, and the next night I'd go somewhere else."
One night, when he had no place to go, Galusha said he set up a hammock at a park in Tucson and slept outside.
Listen:
Galusha now shares an apartment with a roommate. With the help of Youth On Their Own he has received basic supplies for school and for his daily life.
YOTO is a local nonprofit organization that helps high school students graduate. Its mission is to reduce some of the stress that comes from lacking a permanent stable home, by providing guidance, school supplies, food and clothing to teens who are enrolled in school.
"When I was younger I had an abusive mother so my grandma took me away from that, put me with my dad and then my dad moved to Thailand," Galusha said.
Grandparents often step in and take on the responsibility of raising grandkids, as was the case of Galusha.
"I still wanted to stay in school so I started to live with my grandmother," he said.
Galusha, 18, wears a military style dog tag around his neck with his father's name on it.
"It's probably the closest thing I have," he said.
Galusha said he used to have a good relationship with his father but in the end his father began to push him around.
"Sometimes he would...hit me...hard, and he promised he'd never do that and seeing that he's a former cop, I (would) think he wouldn't," Galusha said. "He (would) punch me in the side of the head, choke me against the wall, stuff like that. And I always wanted to fight back, but he's the kind of person that once he starts he won't stop, so if I fight back, he might accidentally kill me."
It is not easy for Galusha to talk about his past. He said he pushes bad memories back in his head and uses running as a coping mechanism. School is a safe place for him, but it is more difficult after not having a normal family, and not having been properly taught how to study.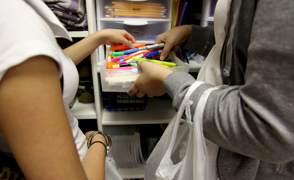 Teens picking out school supplies at Youth On Their Own.

Fernanda Echavarri
YOTO is helping Galusha stay on track to graduate from high school in May. Among many things, the dropout prevention organization offers monthly stipends to students who have good attendance and earn a C or above in school.
"It amounts to maybe $5 per day, that helps them take the edge of their poverty," said Faith Carrabis, development director at YOTO. "That stipend is crucial and it may be the first paycheck they've ever seen."
The organization was founded in 1986 by a counselor at Amphitheater High School, and helped about 1,200 students last year.
One of those students was Tim Bramer. He is now a freshman at the University of Arizona and the recipient of the Arizona Assurance Scholarship.
Bramer started out his senior year of high school in Tucson without a backpack, pens or notebooks. He said he got by asking other kids for pieces of paper and picking up pens from the hallways. He later received a backpack full of school supplies from YOTO.
"Working with YOTO just makes you feel like you're not alone," Bramer said. "It's there to show that you're not going to be entirely on yourself, that they're here to support you and to get you going, to make you want to succeed and go out and go to school."
Bramer said he went to three different high schools and moved from Alaska, to Indiana before ending up in Tucson. He experienced hunger as a child and neglect from his mother, he said. But, like many teens who struggle, he does not want people to know about his past.
"It may seem like we're going to be normal kids. We won't tell you too much about our lives because we're not just going to tell everyone," Bramer said. "Being homeless as a kid would be not having parents to support you or having...an adult figure in your life to go and talk to, and actually have them make you dinner and...help you with homework and stuff like that."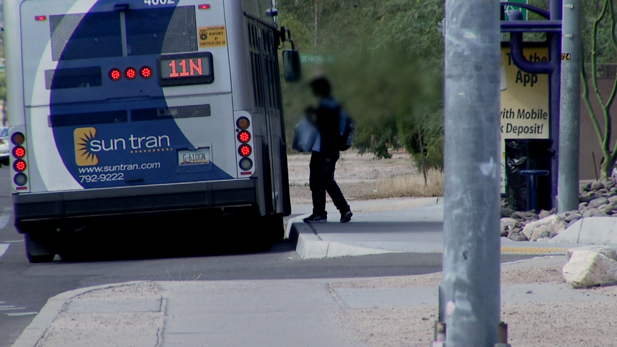 Youth On Their Own student