Ian Fritz, a local lighting technician, said he moved to the Dunbar Spring neighborhood because of its convenient location, but he found more than he expected.

"We get Gila woodpeckers...Anise hummingbirds...a lot of lizards, we've even seen quail, it's a big (deal considering we're) this close to the center of the city," he said.
Fritz, who serves as neighborhood vice-president, has a small house and has created an outdoor space that is often shared with friends. The space has evidence of a green thumb, with desert plants, a vegetable row and small seedlings beginning to sprout, along with an unusual way to gather the water those plants need.

On a corner of his home stands a blue "rain jar" that is connected to the roof by a downspout.
"This is called a rain jar and I built it with the help of the Tucson Rain Jar Project," he said.

The Tucson Rain Jar Project is a group of friends who wanted to build their own rainwater-harvesting cisterns.

In an effort to collect the scarce amount of rain that does fall in Tucson, this cooperative is using a cost effective, do-it-yourself method that brings people together.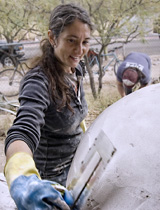 Natasha Winnick applying a smooth finish to a friend's rain jar.

The Rain Jar Project
"We got this whole thing together because we thought it would be really cool to come up with a project where we were building rainwater cisterns as a community, sort of as a barn raising effort," Fritz said. "Everybody comes and helps with your cistern, and then you go to their house and put in hours helping them with theirs..."
Fritz said they built about eight of these cisterns. Now, there are about a dozen around the city and five in his neighborhood.
His tanks hold five hundred and fifty gallons of water. And, based on the size of his roof, it fills up in a two-inch rainstorm. Fritz uses that rain to water trees, shrubs and plants around the yard. With a receding water table and much of the annual rainfall lost to runoff, harvesting rain where it falls can make a big difference.
"You realize it's so much better if the water infiltrates where it falls, so that's why it's all about keeping the water that falls on your property..." Fritz said. "It's amazing how much more responsive plants are to rainwater than they are to water from the tap. I think it's because the rainwater is sweeter, less salty, they can tell the difference."
Dunbar Spring is a historic neighborhood with older adobe homes. With that in mind, Fritz said they were mindful of creating an organic design with the smooth lines of organic structures, one with a rounded shape, like an urn or a pot. The ideas used by the rain project were inspired by similar water-saving projects from rural Thailand.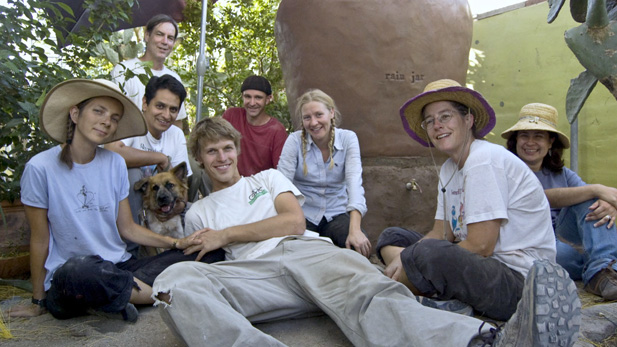 Members of The Rain Jar Project.

The Rain Jar Project