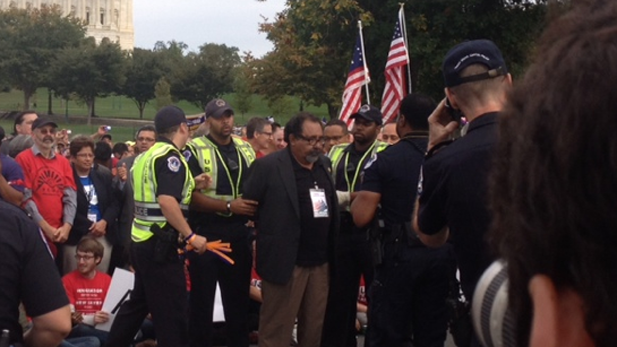 U.S. Rep. Raúl Grijalva, D-Ariz., is taken into custody during demonstration at U.S. Capitol Oct. 8, 2013. (PHOTO: U.S. Rep. Grijalva's office)
U.S. Rep. Raúl Grijalva and seven other members of Congress were arrested at the U.S. Capitol Tuesday along with other demonstrators calling for passage of comprehensive immigration reform.
Grijalva spokesman Adam Sarvana said the congressman attended an immigration reform rally at which House Minority Leader Nancy Pelosi spoke, calling for a vote on reform.
"After all the speeches, he marched with a bunch of the immigration reform activists and his colleagues," Sarvana said. "Along the route was a planned act of civil disobedience. He and several of his colleagues knew ahead of time it was choreographed. You stop in the road, they ask you to move, you don't."
Grijalva was being held at a D.C. jail Tuesday afternoon, and Sarvana said he was expected to be released after posting of bail.
His committee memberships and other House privileges won't be affected by the arrest, Sarvana said.
The immigrant rights group Promise Arizona said Grijalva and the other members of Congress were among an estimated 200 people blocking a street in front of the Capitol "in a statement of support for federal immigration reform that includes a path to citizenship."
A press release from Alliance for Citizenship identified the other representatives who were arrested as John Lewis, D-Ga.; Luis Gutierrez, D-Ill.; Joseph Crowley, D-N.Y.,; Keith Ellison, D-Minn.; Al Green, D-Texas; Jan Schakowsky, D-Ill; and Charlie Rangel, D-N.Y.