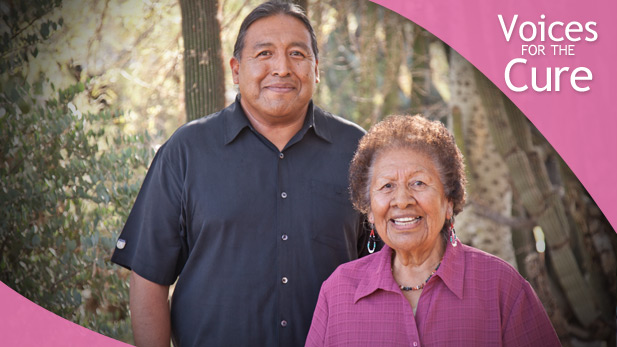 William Williams and his mother Della Williams
It's the diagnosis that no one ever wants to receive, but one that an estimated 1.3 million people must face every year.
Breast cancer is the most prevalent cancer in the world, striking women and men of every age and race. Voices for the Cure is an opportunity for some of the countless people whose lives and loved ones have been touched by breast cancer to share their stories of courage, love, and hope.
The myths and misconceptions that surround breast cancer often create roadblocks that impede understanding and healing.
Della Williams is from the Tohono O'odham Nation, but the story she tells is common to many women who face cancer in their later years.
Feelings of helplessness and depression may seem insurmountable, but Della says that support from her family and sharing her experience with others helped her to heal and learn from her breast cancer experience.
Della starts by sharing some family history with her son, William Williams...
Listen:
Voices for the Cure is produced in association with Susan G. Komen for the Cure Southern Arizona.