Asian pot-bellied pigs came to the United States in the mid 1980s to be sold as pets for nearly $30,000 per animal.
Although at first owners adored the animals, over the years, many neglected or simply abandoned their pigs.

Twelve years ago Mary Schanz and Ben Watkins determined to help these animals, so they founded a shelter called Ironwood Pig Sanctuary.
"There are very few places that will take care of the pigs...(and many) cat and dog rescues," Schanz said. "There is almost no place (taking) care of pigs."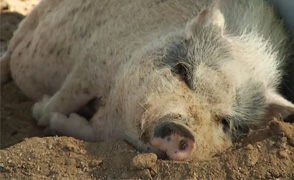 AZPM Staff
Since the sanctuary's opening the pigs continue to come from Arizona and surrounding states. However, their number goes up and down every month. It is usually close to 600, Schanz explained.
Ironwood Pig Sanctuary is a nonprofit organization. It uses donations to buy the animals' food and medications.

Pigs mainly eat pellet, a cup or two per day, Schanz said. To feed them all, it takes a fairly large staff and up to 30 hours of work just in the morning.

Taryn Schaal, an animal caregiver, lives on the property and has five pigs herself. She wakes up at 3:30 every morning to prepare all their food.

"A lot of these guys get special foods," Schaal said. "Some are eating in the feeding pens. They are locked in and they have food and water bowl."
The sanctuary not only feeds the animals and provides a shelter, but also treats them for various diseases using dozens of different homemade medications.
Demetrius, one of the pigs in the sanctuary's hospital, suffers from skin cancer, Schaal said. He is getting his medication in a milkshake, the only food he is able to swallow.

There are many factors a person should consider if they want to adopt one of these animals, Schanz said. People usually want the pigs when they are little and cute, but it takes a truly caring adopting parent, who understands the animals' long-term needs.
"People should not impulsively get a pig, Schanz said. There are good companion for the right people and there are a few right people."

Shona Kroto is a pig owner who thought long and hard before she got her pets.

Her pigs, Morley and Alice, are now a part of the family. They differ in size, color and personalities.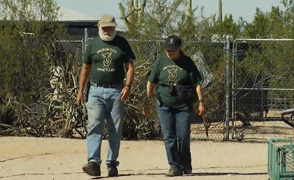 Mary Schanz and Ben Watkins, founders of Ironwood Pig Sanctuary.

AZPM Staff
Morley is an incredibly kind boy and Alice is a bit pushy, Kroto said. But, they have been good to each other.
"She's taught him how to stand up for himself and have some confidence, and he's taught her it is not OK to take charge everywhere," she said.

The pigs inhabit a shaded pen surrounded by tall fences.

They have a small playground with a baby pool and balls in the backyard for recreation, Kroto said. Most of the day, they just like to dig up the ground.

Alice has made herself right at home. She goes into the house through the doggie door. Inside she relaxes and cools down with the rest of the family.
While having pigs as pets might seem strange to many, for Kroto they are a part of the family.
"They are not pets," she said. "All my animals are like my own children."
Other people, who work with these animals, including the staff at Ironwood Pig Sanctuary, share that message.
If you have the time, space and patience for one of these unusual pets, they said, you might want to consider an adoption.
There are plenty of pot-bellied pigs that could benefit from a new home, Schanz said. It really has to go beyond the sanctuary to make a big difference.