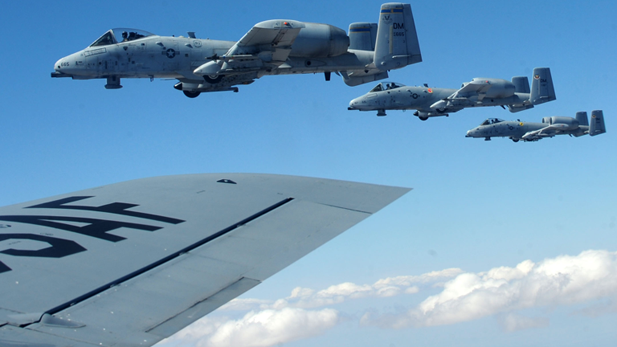 PHOTO: Davis-Monthan Air Force Base
Listen:
U.S. Rep. Ron Barber, alongside a bipartisan group of 30 other members of the House and Senate, sent a letter to Secretary of Defense Chuck Hagel, asking him that the A-10 Thunderbolt II jets program not be scaled back any further.
Recently, the Air Force said they planned to divest the jets.
The bipartisan group argued that the A-10 provides close air support capability, which is unmatched to any other aircraft in the Air Force inventory, the letter said.
"We oppose any effort that would divest the A-10," the letter said. "We appreciate that the Air Force confronts significant budget pressure and uncertainty that require difficult decisions. The Department of Defense submits to Congress early next year must be based on realistic assumptions that place a priority on operational capability, combat readiness, and the safety of our service members in harm's way."
Tucson's Davis-Monthan Air Force Base is home to more than 80 of the jets.
Barber said no other aircraft can do what the A-10 does.

The Arizona Democrat also backed up bringing the new F-35 to Southern Arizona. But he said it cannot replace the A-10.
"It doesn't have the same capabilities to fly low and to fly slow that the A-10 does," Barber said."The A-10 is the best aircraft we've got for that function."
In recent years, the Air Force has invested in new electronics and wings for the A-10. Those improvements were made in order to extend the life of the plane. And, much of the work on the A-10 wings was done at Davis-Monthan.
Read the A-10 letter here: View at Google Docs | Download File