Listen:
Desert bighorn sheep were returned to the Santa Catalina Mountains outside of Tucson on Monday, for the first time in 13 years.
Thirty-one desert bighorn sheep were released into the Pusch Ridge Wilderness after being captured in the Yuma area last weekend, Arizona Game and Fish Department officials said. The herd included six rams, 24 ewes and one yearling.
A desert bighorn sheep with a GPS collar runs into the Pusch Ridge wilderness.

AZPM Staff
"The capture went extremely well," said Mark Hart, public information officer at Game and Fish. "We got 15 bighorn sheep staging from the Imperial National Wildlife refuge and 16 from the Kofa National Wildlife Refuge."
Hart said bighorns haven't been seen in the Santa Catalina Mountains in 13 years, and wildlife officials aren't certain why they disappeared. Reintroducing them now makes sense, he said.
"The habitat has improved tremendously for bighorn sheep," Hart said. "The Bullock and Aspen fires in the early 2000s cleared up a lot of the brush and dense understory that tended to conceal predators, specifically mountain lions.
"In addition, we now have state-of-the-art technology like GPS satellite collars that enable us to track movements and mortalities, so if they are in distress or in a bad spot we'll know."
Hart said more than 100 people witnessed the sheep release in Catalina State Park. Among them was Megan Bethel, a junior at Tucson High Magnet School.
"I've always wanted to be a wildlife biologist, and so this is super exciting for me to come out today and actually experience a real life release," Bethel said.
When the trailer they were transported in was opened, some of the animals were reluctant to come out, so Brian Wakeling, Game and Fish management, guided them out by their horns.
"Those sheep get pretty complacent inside those boxes," Wakleing said with a chuckle. "They feel safe in there. We open the doors and a lot of times they kind of take a look around, and it's not always a real welcoming site, especially when there are a lot of people around taking pictures. But, once they come out they hit the road and they head up towards the habitat that there comfortable in."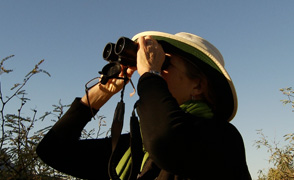 Margaret Wilch, a biology teacher, searches for bighorn sheep after release Monday.

AZPM Staff
When the sheep did emerge, they quickly scrambled up the rocky slopes, their natural habitat.
Wakeling said bighorns like steep slopes because they have the ability to scale rock surfaces to avoid predators.
"Bighorn sheep are pretty good runners and they appear to be really fast," he said. "I'm not exactly certain what their miles per hour are (because) we haven't be able to clock them, but where their real advantage is their ability to climb steep slopes. They can run up those slopes like there's no tomorrow."
To protect the herds as it adjusts and builds, Game and Fish officials have said they plan to kill mountain lions that prey on sheep. Hart said female lions with kittens are the exception.
"We're not going to manage the mountain lion population indefinitely," Hart said. "Once the herd is established and gets up to that range of 100 individuals, we're going to let nature take its course."
Hart said the agency plans to release an additional 60 sheep over the next two years.