AZPM
Arizona's trade with Mexico has grown - in 2012 it was $12 billion. But experts say the state still needs to come up with strategies that could maximize the benefits of being located north from one of the newer, faster growing economies in the American continent.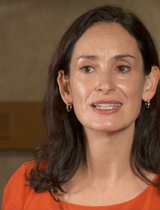 Shannon O'Neil, Latin American policy expert with the Council on Foreign Relations. (PHOTO: AZPM Staff)
A forum last week, sponsored by Arizona State University's Morrison Institute for Public Policy, focused on the potential of this trade relationship and pointed out the work that still needs to be done.
Several of the forum participants shared their conclusions on the issue, as well as shared their proposed strategies during the Friday broadcast of Arizona Week.
"It is time for Arizona to catch up," said Shannon O'Neil, a Latin American policy expert with the Council on Foreign Relations. "Look at Texas and California...they have invested in their border. They have seen the benefits of the trade. There are some steps forward that have been made (in Arizona) but probably fewer than its neighbors."
The past few years have brought to Mexico a blooming middle class and the production of higher quality manufactured goods, O'Neil said. There is a consumer culture that is rising, and for many U.S. companies it has been a very profitable crowd.
There is also an evolving manufacturing industry, now including autos and aerospace, whose companies could make their way north, and provide U.S. residents with more quality jobs, O'Neil argued.
And the option for small Arizona businesses to cross the border has also been tossed around, said Sandra Watson, president and CEO of the Arizona Commerce Authority, which focuses on export-based industries.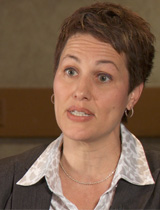 Sandra Watson, president and CEO of the Arizona Commerce Authority. (PHOTO: AZPM Staff)
Watson said a collaborative relationship needs to be built in order for both Arizonan and Mexican trade partners to reciprocate their benefits.
ACA has developed the State Trade and Export Promotion program, which provides assistance to the state's small businesses so that they're able to export their products to Mexico.
"We're also working very closely with our partners at the Arizona-Mexico Commission, the Arizona Department of Transportation and the Arizona Office of Tourism to ensure we are developing a comprehensive strategy to promote opportunities in Mexico," Watson explained. "(Businesses in both sides can) share resources and opportunities to advance."
However, high quality jobs require high quality education.
"For Arizona to attract those companies from Mexico, it is important to have an educative workforce, you need the people who can work in an auto company, who can work in aerospace, who can work in these new types of industries," O'Neil said.
She also suggested that building more ports of entry and harmonizing regulations would make it easier, and more desirable, for these businesses and companies to cross the border.
"Arizona wants to take advantage of the $500 billion worth of goods that go back and forth," O'Neil said. "If it wants to have a bigger piece of that pie, it needs to step up in terms of infrastructure in terms of workforce, in terms of education…(to make itself more attractive)."
Cities and municipalities closer to the border also are eager to benefit from one-on-one relationships with neighboring Mexican cities.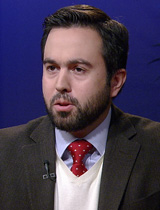 Juan Francisco Padres, Tucson's recently appointed international trade specialist. (PHOTO: AZPM Staff)
The city of Tucson recently brought back to life the Economic Development Department, said Juan Francisco Padres, Tucson's newly appointed international trade specialist.
He said the department has conducted research to weigh out the city's strengths and weaknesses, hoping to maximize trade with Mexican cities.
A flaw would be that Tucson International Airport doesn't have direct flights to Mexico, he said. If Tucson wants to be a major competitor of other border cities, such as San Diego, Calif., and El Paso, Texas, it needs to make it easier for potential businesses and costumers to get here, which also includes shortening waiting periods to cross at ports of entry, he argued.
"We need to keep trade flowing quickly through the Nogales ports of entry, because (for instance) Texas is a competitor of ours, and if it is faster to go through (there than here)...companies will use their ports of entry instead of ours," Padres said. And thus businesses would end up in Texan soil.