(VIDEO: AZPM)
Tucson has a small but growing community of people who keep chickens and sell eggs, from backyard coops to schoolyard flocks that help children learn.
Noel Floresca has been raising chickens for 14 years in his house in north Tucson. In his flock, he has a rooster and seventeen hens of different breeds. But this is not his first experience with them.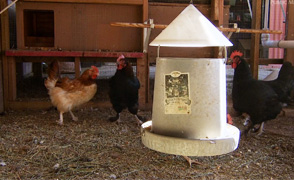 Chickens in Noel Floresca's backyard coop.

AZPM Staff
"I grew up with chickens," he said. "Before when I was young I could butcher them. Now, it is just raising them for the eggs."
Floresca collects eggs every day.
Newly laid eggs will last longer if they are not washed or put in the refrigerator right away. This is due to the antibacterial coating that protects eggs from going bad in the first ten days, he explained.
He also said that to keep the brood healthy, chickens need good living conditions.
There are three different factors needed for raising urban chickens: food and water source, good nesting box and a roosting area, Floresca said.
To raise organic chickens, they need to be fed with organic food, said Catherine Blough, manager of Zenhens, a local cooperative that sells eggs to local markets.
Flo Jasiak, a member of Zenhens, is a proponent of sustainable living. Along with having a water harvesting system in her garden, as well as solar panels on the roof, she is now raising organic chickens.

"About three years ago, I met Cathy...and she started talking about chickens, so I said, 'Oh I want to have chickens again, 'cause I like fresh eggs and fertilizers for my garden,'" she said.
But, there is more to raising chickens than just keeping them for eggs.
Teachers from Manzo Elementary School in Tucson built a chicken coop for its students. One of the reasons is to help them with math, said Mark Alvarez, a principal at the school.
"We didn't have the best math score," he said. "A lot of what we do in terms of taking care of the chickens is counting the eggs, graphing the eggs ,and analyzing the data. We use practical mathematics so the kids can have more successes in the classroom."
Manzo's chicken coop, those in Jasiak's and Floresca's backyard and a dozen others will be part of the sixth annual Tucson Chicken Coop Tour kicking off this Saturday.
The tour is self-guided. To register visit event's website.