Listen
The Sunnyside School District will close two schools in Tucson, the school board decided in a 3-2 vote Tuesday night.
Los Ranchitos Elementary School and Chaparral Middle School will be closed at the end of the current academic year.
Governing board members Buck Crouch and Daniel Hernandez Jr. voted against the closure. Crouch cited concerns with the sustainability of the plans proposed by district staff.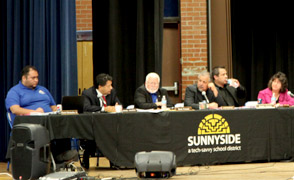 PHOTO: Fernanda Echavarri, AZPM
Sunnyside School District governing board
Sunnyside took the action to lower an anticipated $6 million deficit. Also on the list of cuts are reduction in administrative costs by $500,000 and elimination of one elementary school specialist at each school, which would cut another $500,000.
Closing Los Ranchitos Elementary School will save the district $750,000 and could improve Sunnyside's academic placement because Los Ranchitos has been labeled an underperforming school for the last three years, according to district officials.
"I've been here 12 years. It's sad to see it go," said Caroline Green, a teacher at Los Ranchitos. "It's the end of an era."
The plan for Chaparral Middle School is to close the school as it is now, to save $1 million. Next academic year, the district will upgrade and modify the facility using $8 million in bond money. By the 2015-2016 academic year, Chaparral will reopen as a K-8 fine arts school.
Sunnyside Superintendent Manuel Isquierdo has said the cuts were needed because voters turned down a budget override proposal in November. The proposal would have allowed the district to raise property taxes and exceed the state legal limit on budgeting.