(VIDEO: AZPM)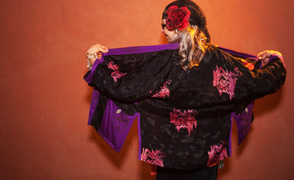 Andrew Brown
Cold temperatures creep up in the Old Pueblo only a few weeks per year.
Despite that, many Tucsonans scavenge thrift and vintage stores for statement jackets to keep them warm when it does get chilly outside.
These gems are often unnecessary in Tucson's climate, yet they've become such highlights in many wardrobes.
People with a variety of styles - from the Western gentlemen to the 1920s-loving young women and the '90s enthusiasts - are always prepared to showcase how they do winter, and this area is definitely equipped with options with stores, such as Desert Vintage in Fourth Avenue and the White Elephant in Green Valley.
To the artistic eye, the variety of styles worn by the locals is striking. But is it also a symbol of the city's melting pot and the popularity of thrift stores?