Listen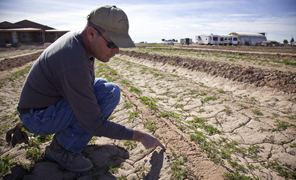 Farmer Michael McKenzie at Lucky Nickel Ranch
For most people, Southern Arizona isn't thought of as a rich agricultural region, other than the centuries-old tradition of cattle ranching.
Now, farmers and activists are partnering with potential investors to discuss ways to grow the local food economy.
Among them is Michael McKenzie, a first generation farmer in Eloy. He runs the Lucky Nickel Ranch, a small organic farm that caters to the growing number of health conscious residents of Pinal County.
What are now acres of lettuce, kale, swiss chard and beets, were once fallow fields of scrub bushes and dust.
"See this field just to the east of us? That's about 200 acres of cotton and corn fields. Basically, it was an empty piece of desert," said McKenzie, a former contractor from Intel who bought the property in 1997 with the help of what's called an 'angel investor.'
That is someone who lends or possibly gives money with a low interest rate and a flexible timeline for repayment or a return on investment. Such investors often are interested in more than a financial return, adding the personal fulfillment that comes with philanthropy.
At a January conference at Biosphere 2 north of Tucson, food activists and business owners met to discuss ways to increase investment in Arizona's local food economy.
"A lot of what we're talking about is how to match investors who have money with local food projects like farms, ranches, processing centers," said Megan Kimble, managing editor of Edible Baja Arizona, a magazine that was a sponsor of the conference.
"One thing that came up ... was that 95 percent of the (food) processing capacity of Arizona has left the state; it's been outsourced," Kimble said. "How do we bring that processing capacity back?"
Kimble said investing in a community's food economy can be as simple as an individual buying locally grown foods or at locally owned businesses. She explained the difference that spending even $100 a month locally could have.
"$79 will stay in your community vs. $30 if you spend it at a national chain," Kimble said. "It's thinking about how to make sure my dollars, which for me are pretty scarce, how can I spend those in a way that has the biggest impact where I live and support businesses that I believe in."
She said the result of keeping that money in the community leads to more jobs for Arizonans in farm work, manufacturing, processing, selling and marketing.
That could come about because there is an increasing move to reinvest in local food, said Woody Tasch, author of Slow Money and a conference participant. He has started more than a dozen financial groups around the country in which members invest anything from a few hundred dollars up to millions in food-related businesses in their communities.
"We're doing it for two reasons," he said. "One is the proactive reason, which means that we recognize that at this point in time it's really important to support small, regional food production that is less dependent on global supply chains and labor and environmental practices in other countries that we're not too sure about. So we want healthier, more local food."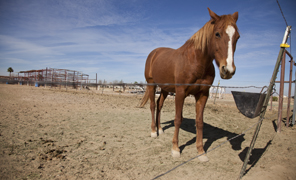 "And we're also doing it because for many of us, we're also concerned about how out of control financial markets are and how the speed of capital zooming around the planet is not an unfettered good."
At the conference, Kimble stressed that being an investor in the local food economy isn't just for those with money to spare. She says that, no matter what their income level, anyone can benefit their community by how they choose to spend their dollars.
"Part of the conference is to show consumers that they have power," Kimble said. "That every dollar that you spend as a consumer is a dollar that has an impact. And your decision to spend it impacts other people's livelihoods and it impacts your community."