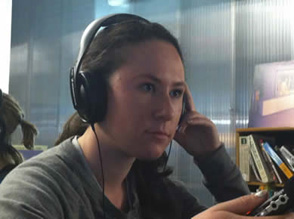 Kore Press was founded in Tucson in 1993, with the mission of publishing women writers and educating girls in social activism.
The Listening Project is Kore Press' civil discourse series, built around female veterans telling true stories about their military service to teenage girls.
The motto is, "Keeping history real by lifting up the voices of women and girls". The goal is to open dialogues across generations and cultures.

Elsewhere in this series, we have heard the stories of career military women who have learned to balance their service with their families. Kim Shroyer faced her biggest difficulty returning to civilian life after she adjusted to the rhythms of a war zone in Iraq.
Shroyer was twenty-four years old when she enlisted, and next we'll hear about the things she says she gained - and lost - during her time in the army...

Is there room for empathy in a war zone? Today, Connie Brannock is a retired Army sergeant who looks back on her military career with pride. But in 1990, she was a 35-year old new recruit who was deployed during the Gulf War surge. Brannock took her peace-keeping mission to heart, and found ways to connect to her fellow soldiers and the local citizens she met...
Listen:
Native Tucsonan Donna Gallagher-Mobley was eighteen when she enlisted in the Navy in 1965. She soon found that being in uniform raised questions about her identity that she had never had to confront before, including how she felt about the politically-charged conflict in Vietnam...
Listen:
In this interview, Kristi Teller shares some of the tough decisions she has to make in order to be an Air Force Sergeant and a new mother...
Kristi Teller's interview was conducted by Natalia Navarro, and produced by Kimi Eiesele and Sarah Bromer.
In this audio excerpt, U.S. military veteran Caitlin Cima describes some of the most vivid memories from her tour of duty in Iraq.
Listen:
Caitlin Cima's interview was conducted via Skype by Shaina Katz, and produced by Natalia Navarro.
More about The Listening Project and Kore Press:
AZPM
In 2008, Tucson's Kore Press published Powder: Writing by Women in the Ranks, from Vietnam to Iraq, a collection of first-person accounts from women who served in the U.S. military.
For the book's editors, Lisa Bowden and Shannon Cain, that collection was only the start of an in-depth exploration of the impact that military service can have on women who choose to enlist.
The next step was a stage adaptation, resulting in the one-woman show called Coming in Hot, which was performed in 2009 and brought several of the stories from Powder to life on stage.
The latest effort from Kore Press to document the female military experience also involves a new generation of women. Called "The Listening Project", its purpose is to let high school-age volunteers interview and record the experiences of female veterans and service members.
Kore Press editor Lisa Bowden says she hopes that this process will inspire communication, and provide a chance for the younger participants to reflect upon their own experiences as they listen closely to the stories of their elders.