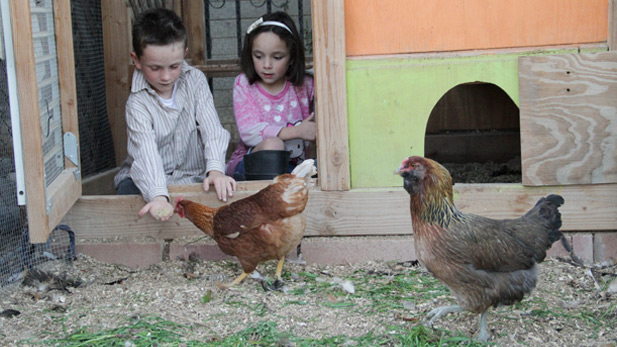 Culliney's children, Reece and Harper, enjoy helping out with the family flock.

Mariana Dale
Listen:
Kristen Culliney and her family keep eight hens in their midtown Tucson backyard, making them outlaws under the current city zoning code and her local homeowner's association rules.
"I get around it by A, not asking and B, telling people they are pets," Culliney said. "I mean they all have names. We don't eat them."
Culliney is part of a burgeoning group bringing traditionally rural practices to residential neighborhoods. In many cases, the city code hasn't kept up with that.
The city of Tucson has started the process of adjusting the zoning code to be more accommodating to urban agriculture practices.
"In some ways we're just trying to update our code to address what have been going on in the city for decades," said City Principal Planner Adam Smith.

For example, city code permits residents to keep up to 24 chickens, but the coops must be distanced from property boundaries.

"The coop must be set back 50 feet from the next door neighbor's house, but many midtown lots are only 45 to 50 feet wide," Smith said. "So, it is literally impossible to locate the coop anywhere on the property."
This argument doesn't satisfy all Tucson residents.
"If you're driving down Speedway and you notice everyone speeds on Speedway, we do not modify our speed limits in order to allow for that so-called common practice of speeding," said Colette Altaffer, a community advocate from the Catalina Vista neighborhood.

This month, the city wants feedback from the community about proposed changes. From there, the updates will still need to pass the Planning Commission and eventually the city and the Tucson City Council.
"Much of our food today is driven in from hundreds, if not thousands of miles or flown in from other continents," Smith said. "So part of this is an issue of addressing food security concerns and trying to grow food locally."
The drafted measures tackle a slew of practices, from reducing the setbacks for small animal enclosures to permitting the keeping of pygmy goats. They also set standards for community gardens, which aren't addressed in the zoning code at all.
Community Gardens of Tucson has mapped almost 50 gardens scattered throughout city neighborhoods.
Merrill Eisenberg is an anthropologist who helped craft the code updates, after researching the benefits of urban agriculture as part of a countywide grant program.
"Getting people to grow their own food would be one way to first of all make fresh fruits and vegetables available to a lot of people in the city who don't have access to them at the moment," Eisenberg said.
Eisenberg said there is an active urban agriculture community in Tucson. She founded a Facebook group called Tucson CLUCKS to share information among chicken keepers.
To date, there are almost 800 members who exchange pictures of chickens and animal care advice daily.
One concern is that increasing urban food production will attract animals including javelina, coyotes and bobcats.
"One of the things they always stress is never have a food source where a wild animal can get to it," Altaffer said. "So when I see allowing a garden in the front yard and not having a fencing requirement, it runs counter to that very bit of advice that we are being given."
Eisenberg said an informal survey of Tucson CLUCKS members found that they did encounter predators, but not at an increased level than before they had chickens.
"It's part of the natural circle of life and people do take precautions like having a fenced in and a netted chicken run," Eisenberg said.
Tucson joins several U.S. cities including Boston, Mass. and San Diego, Calif. that have updated their codes to make it easier to produce food in city limits.
Earlier this year, the Arizona Legislature considered a bill that would prevent local government from prohibiting people from raising backyard chickens, but it died in the House.
In Winterhaven, Culliney said she calls her operation an urban homestead. It provides her family a ready source of food, but also sparks conversation with her children.
"Questions happen, like, 'Wait, is the chicken we eat on our salad the same chicken that's out there? How do we kill them? Is that mean? Does it hurt?'" she said.
Culliney said the neighbors haven't complained and some share the reward of her efforts.
"They brew beer and wine so we do trades," she said. "We give them eggs for beer and wine. It's a fun opportunity to barter."
The public meeting to address the proposed changes is Tuesday, May 13 at the Sentinel Building on 320 N. Commerce Park Loop at 6:30 p.m. More information can be found on the city's Sustainable Code Project website.