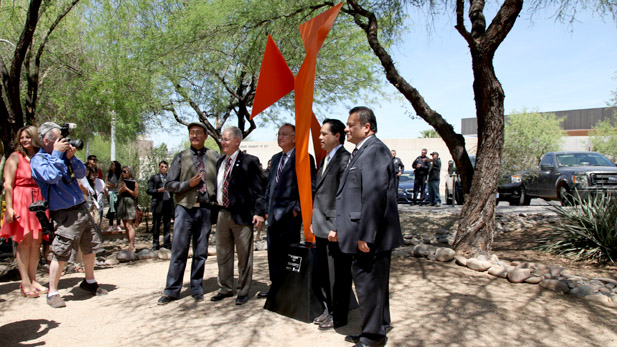 Tucson's mayor and Mexican officials unveil new sculpture at Sunset Park in front of City Hall

Fernanda Echavarri, AZPM
Listen:
Tucson Mayor Jonathan Rothschild received a prestigious award from the Mexican government Thursday for his work to strengthen relationships between the two countries.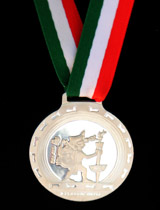 The medal given to Rothschild (PHOTO: Fernanda Echavarri, AZPM)
The Ohtli Award is the highest recognition the Mexican government can give to members of the community in the United States, who have contributed in "an exceptional manner to the development of the Mexican community living abroad," according to officials with the Mexican consulate in Tucson.
Ohtli is a Nahuatl expression for "he/she who opens pathways."
"Mayor Rothschild and the city of Tucson have been great allies of the consulate in working together to strengthen the relationship with Mexico and fostering stronger ties between our communities," said Ricardo Pineda, consul of Mexico in Tucson.
About 50 people gathered outside City Hall at Sunset Park Thursday morning, where Mexican artist Ariel Diaz also unveiled his sculpture, "Bird of Paradise," to the city.
Rothschild thanked his staff, particularly Juan Padres, the city's economic development specialist for international trade, for his work with the Mexican government.