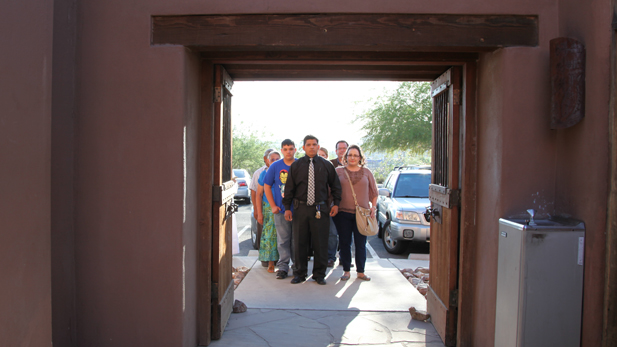 Daniel Neyoy Ruiz with his family about to enter Southside Presbyterian to seek sanctuary.

Fernanda Echavarri, AZPM
Listen:
A Mexican immigrant facing deportation took refuge Tuesday at the Tucson church where the 1980s sanctuary movement was born.
Daniel Neyoy Ruiz, 36, walked into the Southside Presbyterian Church at 5:30 p.m. and said he plans to stay until he hears from Immigration and Customs Enforcement about his deportation case.
"My wife, my son and I are going to stay in a room at the church until something is decided because I'm not going to give up so easily," Neyoy Ruiz said in Spanish hours before moving in to the church on Tucson's south side.
This is the first time in more than 30 years that Southside Presbyterian has allowed a family to stay for sanctuary, church officials said.
About a month ago, Neyoy Ruiz said he received a letter from the immigration agency giving him 30 days to appear at the Tucson immigration office for voluntary deportation.
The deadline for turning himself in ended at 11:59 p.m. Tuesday.
About 50 people cheered for Neyoy Ruiz as he and his family arrived at the church for a press conference and religious ceremony with clergy from about a dozen churches of different denominations.
Neyoy Ruiz, a maintenance supervisor at a townhouse complex in Tucson, listened as his father played guitar and sang after readings from the Bible. At the end of the ceremony, people gathered around Neyoy Ruiz, his wife and 13-year-old, U.S.-born son, holding hands or placing their palms on each other's shoulder.
"ICE is conducting a comprehensive review of Mr. Ruiz's case to determine appropriate next steps at this time," an immigration spokeswoman wrote in an email.
In a memo dated Oct. 24, 2011, the director of ICE wrote guidelines for agents regarding enforcement at "sensitive locations," including churches, schools and hospitals.
The policy says any planned enforcement at such locations must have prior approval from high-ranking officials and that the policy is "meant to ensure that ICE officers and agents exercise sound judgement when enforcing federal law at sensitive locations make substantial efforts to avoid unnecessarily alarming local communities."
The policy does not prohibit agents from enforcing laws at those locations.
Neyoy Ruiz was detained in a 2011 traffic stop when a police officer noticed smoke coming out of the back of his car and contacted the Border Patrol, he said. Once a Border Patrol officer determined that Neyoy Ruiz was in the country without documentation, he was taken to an immigration detention center where he spent a month in custody, he said.
For three years, Neyoy Ruiz has continued to live and work in Tucson waiting to hear about his possible deportation.
"At night I would wonder, what is going to happen to me? … What's going to happen to my family if I'm deported?" he said. "I provide for my wife and teenage son."
Neyoy Ruiz said he has no criminal background, and has kept steady employment in Tucson since he came to the United States more than 14 years ago.
His son is attending school in Tucson, he said.
"Daniel's case should have received prosecutorial discretion long ago. According to the Obama administration, he is an ideal candidate for administrative closure," immigration lawyer Margo Cowan said. "The fact that his case has progressed to the point where he is being ordered to remove himself from the U.S. clearly demonstrates that the cracks in the system are vast and that far too many families and communities are left to feel the pain and suffering caused by deportation."
Cowan said there is a good chance the case will be closed and the government will no longer actively seek to deport Neyoy Ruiz.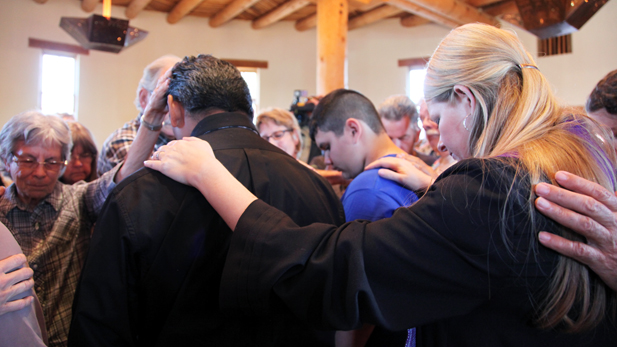 Daniel Neyoy Ruiz is surrounded by supporters praying at Southside Presbyterian Church

Fernanda Echavarri, AZPM