Listen:
Manuel Isquierdo's last day in the office of the Sunnyside Unified School District Superintendent will be Friday, two years before the end of his contract.
"I'm not retiring I'm not quitting I didn't get terminated it was a separation agreement and it was very important for me to say it that way," he said. "I got fairly compensated and I appreciate that."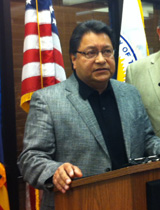 Sunnyside School District Superintendent Manuel Isquierdo. (PHOTO: Fernanda Echavarri)
The district's governing board voted 3-2 Monday to buy out Isquierdo's contract and pay him $499,500 over the next 18 months. On Tuesday, the board named Assistant Superintendent Eugenia Favela to run the district until a permanent replacement is found for Isquierdo. Favela's salary will be increased for the interim work from $100,000 a year to $125,000.
"I was prepared to stay for two years if we could make it work, but it became very clear that it wasn't going to be an option, so then we negotiated," Isquierdo said in an interview Tuesday.
Two weeks ago, he told the board if he lost the support of the two board members facing a recall, he would not want to serve as superintendent.
The district had "a very political year in terms of my governing board. We've had recall elections, overrides being defeated and people saying things that weren't always accurate, so it's been a very difficult year," Isquierdo said.
Louie Gonzales and Bobby Garcia, his biggest supporters, lost the recall election May 20 and voted at their last board meeting to allow the buyout.
"Politics are local, and this had an impact on the future of this district, my future, the board future and as always the board that's coming in has the right to say we wasn't a change in leadership and I have to respect it," Isquierdo said.
The two board members who took office Tuesday, Beki Quintero and Eric Giffin, had said they would not want to keep Isquierdo as superintendent.
"I am tired of the politics, I am tired of all the different things that we had to prove constantly, but you know what, I'm also relived that I can go do something now and I can go contribute to things that I find very meaningful for Latino communities across this nation," Isquierdo said.
If the new board majority wants to change the terms of the separation settlement, Isquierdo said it would have to go to court.
He called the buyout a "good thing."
"I appreciate what has happened here on so many levels, and I appreciate this community," Isquierdo said. "I think good for everybody that this board can select a new leader and try to put this district back on track and providing education for kids putting all the things that this community needs first instead of worrying about politics that were impeding our effort to do that over the last year especially."
Isquierdo said Sunnyside is "a far better community than when I found it, with a lot of people helping me. I don't pretend for a minute that I did this by myself but what I did do was provide the leadership to make that happen."