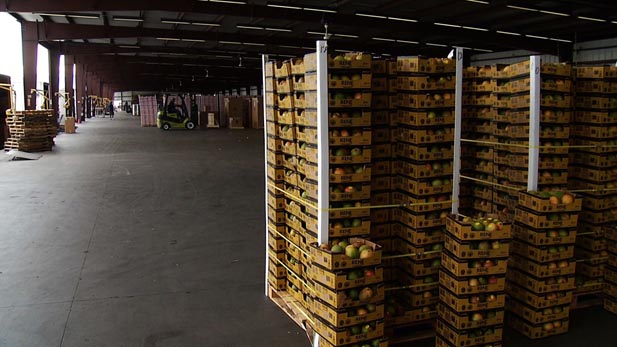 Fresh fruit sits on the loading dock of Mariposa Port, ready for inspection.

AZPM Staff
Last in a two-part series

Listen:
Mexican imports and exports make a big impact on Arizona's economy, with one of the largest cross-border industries being fresh produce.
Other industries are also increasing relationships across the border including aerospace and a Tucson high-tech company currently operates in both countries.
The U.S. Census Bureau estimates that more than $7 billion in Mexican goods came into Arizona in 2013.
The imports run the gamut, from copper wiring and tubing to jet engines. At the top of the growing list are fresh fruit and vegetable imports.
"Here in Nogales, I would say we're in the neighborhood of 1,600 trucks crossing per day, and I would say 1,200 of those are fresh produce," said Lance Jungmeyer, president of the Fresh Produce Association of the Americas, based in Nogales. "From Sonora, you have a very easy route into Nogales. It doesn't make sense to truck it across into Texas from there."
Jungmeyer's association reported between September 2012 and April of last year, more than 3.5 billion pounds of produce came through the Mariposa Port of Entry.
U.S. Department of Agriculture data show Mexico has been responsible for more than half of all fresh produce imports in the country since 1999.
The volume is growing, particularly as water issues mean California grows less produce.
Other industries also are increasing their shipments of wares into the state from Mexico. Included is one of Tucson's well-known industries: aerospace.
Census data list three categories of aerospace parts in Arizona's top 25 imports from Mexico. Total value of those imports is more than $700 million.
Airtronics has designed, manufactured, machined and maintained aircraft components for nearly 40 years, and for the past three months, has been operating a plant in Nogales, Sonora.
"We've been really successful and really pleased with the quality of folks we've been able to bring on the Airtronics team down in Mexico," said Don Parkhurst, senior vice president of Airtronics.
When it came time to expand, Airtronics decided it would partner with a company that specializes in building maquiladora plants in Mexico.
Maquiladoras are manufacturing facilities that sit in free trade zones, allowing the owners to import raw materials, assemble them on-site, and then export the final product duty-free.
"In our case, we were lucky to have a professional staff down there to really guide us and give us what we needed to know," he said. "Let us know what pitfalls had faced other companies before so that we were able to avoid those."
Airtronics' products must meet aerospace industry standards.
Parkhurst said that means all parts manufactured in Mexico must come back to Tucson for final inspection, at least for the time being.
"It's a logistical challenge, but we're willing to do that because we're anxious to make sure that we see the same quality from both sides of the border," he said.
In the coming months, Parkhurst said the company hopes to attain the standardization certification for its Sonora plant. It will then be able to ship goods made in Mexico directly to customers. The expansion in Mexico has not stopped Airtronics from growing its Tucson operation.
"The growth we've seen in Nogales, Sonora, has also resulted in growth here because we need that additional support here to make sure things are going smoothly there," he said. "So we've seen an increase in workforce on both sides of the border."
Airtronics' Sonora facility currently employs twelve workers.
Because of the new facility, the company has hired six new employees at its Tucson office, giving that office a total of 75. Meaning more goods coming in from across the border could result in increased job creation for Tucson.
Part I: Ports of Entry Working to Make Tucson an International Trade Powerhouse.