Listen: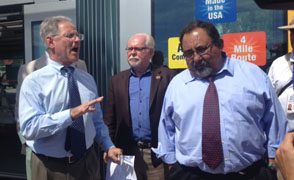 Tucson Mayor Jonathan Rothschild dedicates a streetcar stop on the west end of the four-mile route to U.S. Rep. Raúl Grijalva.
It was many years in the making, and Tucson's modern streetcar begins public service Friday.
This week, city officials are completing the final testing of the cars on the electric lines, and wrapping up finishing touches, such as dedicating a stop to U.S. Rep. Raúl Grijalva.
Grijalva is recognized in a plaque at the streetcar stop at Avenida del Convento and Congress Street, on the west side of Interstate-10, the western terminus of the looped route.
The entire streetcar route runs four miles through downtown, Fourth Avenue entertainment district, and University Boulevard areas, to the University of Arizona Medical Center.
Grijalva said many people contributed to the effort to ensure federal funding, which makes up about a third of the $200 million budget for the project.
"This is very special. Long after I'm gone people will come up to this plaque and go, who was he?" Grijalva said, laughing. "It will be an important reminder that this streetcar is the future."
He said he chose the west-side stop because it represents Tucson's past, and what's to come.
"This is going to be so successful that we're going to be discussing how to move forward with other routes and other extensions in the future," he said.
Grijalva had to work with many federal officials to secure the funding, and the work began when he was a freshman in congress, said Tucson Mayor Jonathan Rothschild.
"Congressman Grijalva was instrumental in getting the streetcar money at the earliest stages. He championed this project with his colleagues in Congress, with the president, with the department of transportation," Rothschild said.
There were problems with the project along the way, Rothschild said. At one point, the city was asking the federal government to help ensure the streetcars would be delivered in time for the line to operate.
"When we had to go back to Washington, to move Washington to help us get the project done, Congressman Grijalva was there for us. So again, it is well deserving that at this place on the west side we are having a plaque for Congressman Grijalva," Rothschild said.