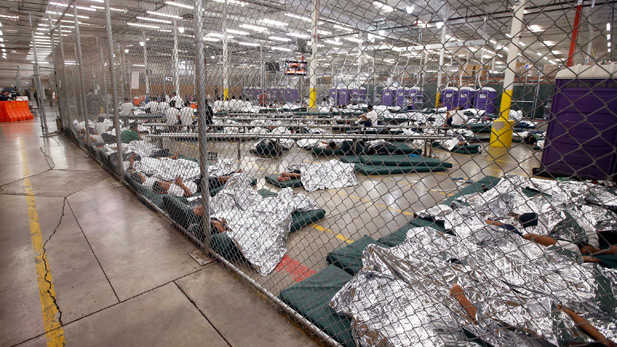 Children sleep on mattresses without pillows, covered with foil blankets.

AP
More than 5,400 unaccompanied children caught crossing the border illegally were processed at the Nogales detention center in the last eight weeks, the Department of Homeland Security reported Friday.
Most of the children and teens came from Guatemala, El Salvador and Honduras. A large number were apprehended in Texas.
From May 31, when the Nogales Placement Center opened, to July 22, there were 5,479 unaccompanied children processed there, Homeland Security reported.
The influx of children in the Rio Grande Valley overwhelmed federal officials in Texas who flew hundreds of young migrants to Arizona to be processed at the Nogales facility.
Children slept on 4-inch mattresses, covered up with foil blankets without pillows. Officials said the kids were fed three times a day and allowed to take a shower when in detention.
The children were separated by age and gender using chain-linked fences.
On average there were 800 children at the Nogales facility on any given day, DHS said.
This week there were fewer than a dozen children at the Nogales warehouse, Border Patrol officials said.
"The Nogales Placement Center remains an operational resource for Tucson Sector and can be used to assist in processing individuals apprehended in other sectors as operational demands require," DHS officials said in an email.
Children apprehended in Texas have not been sent to Arizona for at least a couple weeks, officials said.
U.S. Customs and Border Protection is required to transfer the children to the Health and Human Services Department Office of Refugee Resettlement within 72 hours of apprehension, but White House officials said the mandate was not met at the peak of the influx.
The children who passed through the Nogales warehouse are either in custody of Health and Human Services living in temporary shelters or out of custody and with family in the U.S.
From January to July 7, the Office of Refugee Resettlement reported, it released 30,340 children to relatives or sponsors in the United States, 186 in Arizona.