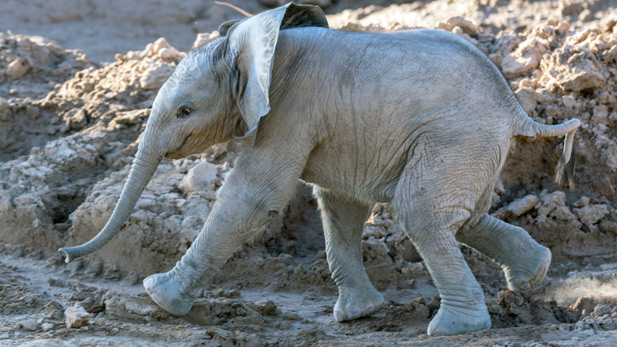 Baby elephant at Reid Park Zoo. Tuesday, Sept. 16, 2014.

Reid Park Zoo
Listen:
After a month of being called baby, Tucson's newest elephant has a name — Nandi.
The name is in Siswati, the language of the herd's home Swaziland, and means sweet or fun. It's a common girl's name, and zoo officials said it fits her, because she's the only daughter in a family with two brothers.
Nandi is spending her days getting to know the other five members of her herd, said Vivian Van Peenan, education curator of the Reid Park Zoo.
"She does spend time with both of her brothers, we've got some great video of them playing in the mud with her, and they're incredibly gentle with her, they know her limitations," she said. "When the two older brothers get a little two rambunctious mom lets them know when it's time to settle down. You will see her stepping in and protecting the calf when needed."
Nandi's naming was a milestone, as was her introduction to the public portion of the elephant exhibit last weekend, Van Peenan said. Another will be when all six members of her herd can be together at the same time. For now, she is spending time with smaller sets of family members.
"Every day they alter who is out with her, so maybe it's dad and auntie Lungile, or maybe it's brothers and Lungile, so all six have not been on the exhibit together so that's still another milestone to come, hopefully soon," Van Peenan said.
Nandi is usually in the public area in the mornings, but for how long depends on the elephant's energy level.
"What happens is, when she gets tired, she'll sort of lay down next to mom, but the exhibit that's close to the public it's very dynamic, there are lots of hills and mud wallows and lots going on, so every time she tries to rest, when she sees or hears something she sort of pops up again and really doesn't get good rest on the main exhibit," Van Peenan said.
That's why Nandi rests in a non-public area.
"When mom makes a loop or two around the exhibit, that's a lot of keeping up for her," Van Peenan said. "And then of course there's all that play time in between, wrestling with her brothers and chasing around with mom, who is herself trying to get enrichment and interact with the herd, it's a lot for a little one to keep up with."