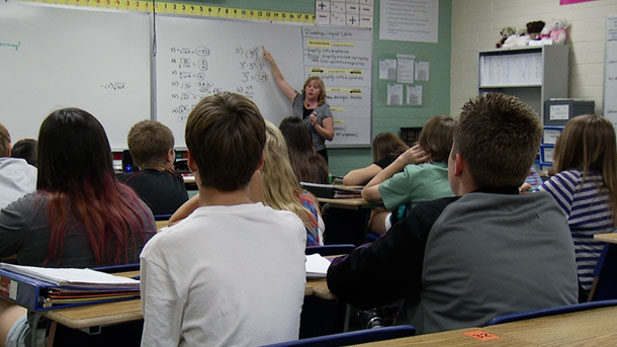 A classroom in the Vail School District in suburban Tucson.

AZPM Staff
Listen:
Education is one of the hot button issues in the upcoming election cycle, with funding as the most pressing need for Arizona's public schools.
In the 2012-2013 school year, Arizona's public schools received less than $7,000 per student. That's the lowest per capita spending on K-12 education in the nation. The country's average is $11,000. At the top of the list, schools in the state of Vermont get nearly $20,000 per student.
Lisa Kist, virtual reality teacher at Tucson Unified School District's Gridley Middle School, regularly contends with budgetary constraints in her science lab.
"I have microscopes in my class to be able to teach my students microscopic concepts, but if I break one, where would we find the money to replace one? We just don't have that kind of money in our budgets," she said.
In fact, Kist spends about $1,000 of her own money each year on classroom supplies.
State lawmakers are under a court order to give schools an additional $317 million this year, but haven't yet disbursed the money.
Andrew Morrill, president of the Arizona Education Association, said the failure to do so is emblematic of the strained relationship between policymakers and the public education system.
"We still have policymakers that regard public enterprises, including public education, as a cost to be contained and reduced...public school teachers as entities to be controlled, quietly managed, contained in some way," he said. "And the whole enterprise of public education as less than a priority. "
Eileen Sigmund, president of the Arizona Charter Schools Association, said, not only do schools need more money, there's also a need to overhaul the budgeting process.
"In Arizona, we have robust school choice," she said. "We have open enrollment. We have the greatest number of students in charter schools in the country, and the dollars do not follow the families when they make these choices. Instead, they're stuck in an outmoded method of delivery that harken back three decades. So what happens is, my own children are in charter schools, yet I pay taxes to a school district where I receive absolutely no benefit."
Morrill, on the other hand, said school choice hasn't proven an effective model for educating Arizona's students.
"We've had choice for two decades at least. If choice really is a driver of education, we'd know it by now," he said.
One positive development Morrill said he sees is the implementation of the Common Core Standards.
Colleen Niccum, vice president of education policy at the Southern Arizona Leadership Council's, said the term Common Core is too politicized and referred to the curriculum as the Arizona College and Career Ready Standards. She said there's widespread support of the standards, but, once again, their ultimate success will come down to funding.
"What's missing is the professional development and the resources needed to implement them," she said.
Regardless of what policies the state implements on school choice or the Common Core, or how much legislators choose to fund public schools, Kist said she still has a full classroom of students to teach.
"For me, it's always about the students," she said. "Writing all the curriculum for a program that's never existed before for virtual reality and having students get excited about it. Having students go, 'I hated science until I had you and it makes sense to me now.' All of those things really, really make it worth it."