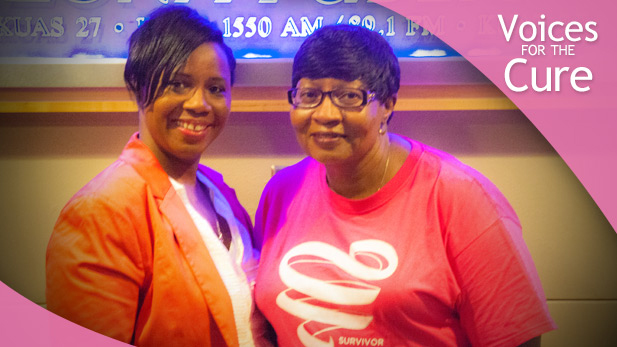 LaTrice Jordan and her aunt Carolyn Green visit the AZPM Studios.

Mark McLemore
It's a diagnosis that no one wants to receive, but an estimated 1.3 million people must face every year.
Breast cancer is the most prevalent cancer in the world, striking women and men of every age and race. October is Breast Cancer Awareness Month, and Voices for the Cure lets those whose lives have been touched by breast cancer share stories of courage, love and hope.
In her career as a healthcare provider, Carolyn Green has helped many women through their breast cancer experience, and witnessed the emotional and physical toll up close. Carolyn is also a two-time cancer survivor.
LaTrice Jordan, Carolyn's niece, lost her mother Linda to breast cancer about five years ago. LaTrice works in the health insurance industry, and understands the difficulties faced by patients who are navigating the complexities of cancer treatment.
Today, both women are dedicated to spreading the word about the importance of early detection, and doing what they can to protect their family's future generations.
Listen:
Voices for the Cure is produced in cooperation with Susan G. Komen for the Cure Southern Arizona.