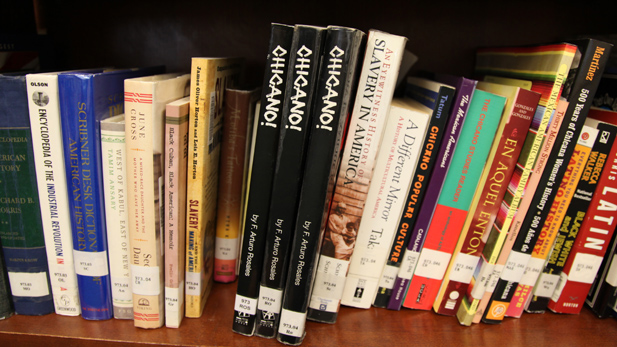 Books used in TUSD's now-banned Mexican American Studies classes.

Fernanda Echavarri, AZPM
A federal appeals court will hear arguments Monday in the case against a ban on Mexican American Studies in the Tucson Unified School District. The 9th U.S. Circuit Court of Appeals will hear arguments in San Francisco.
Arizona lawmakers approved the ban on courses that promote resentment toward a race or class of people, are designed primarily for people of a particular ethnic group, advocate ethnic solidarity or call for overthrow of the government.
The Mexican American Studies program in TUSD was eliminated two years ago because the district risked losing 10 percent of its state funding, about $15 million at the time.
A group of students and teachers sued the state, saying the law was a violation of free speech.
Courses taught from the Latino and African-American perspectives, called "culturally relevant" classes, were started at TUSD this school year, under orders from a federal judge overseeing the district's decades-long desegregation case.
State Superintendent of Public Instruction Diane Douglas said last week she supports that curriculum but not the way it is being applied in some classrooms. She has given the district until March 4 to make changes.