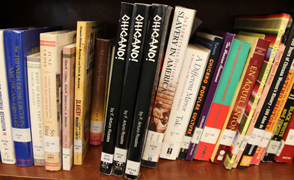 Books from TUSD's defunct Mexican American Studies classes

Fernanda Echavarri
Tucson Unified School District is facing questions from the state Department of Education about some of its ethnic studies courses.
State schools Superintendent Diane Douglas has given TUSD until March 4 to make adjustments in how its "culturally relevant" curriculum is being taught in high school classes.
Douglas has approved the curriculum but not the way it is being applied in all classrooms. The district could lose up to 10 percent of its state funding if it is found again to be in violation of a state law curbing how ethnic studies are taught.
For analysis, Arizona Public Media's Andrea Kelly spoke with reporter Fernanda Echavarri.
Listen: