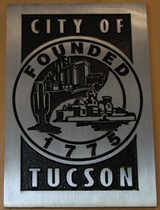 Tucson city seal. (PHOTO: Andrea Kelly)
The Tucson City Council decided to again ask voters to choose their council representative, and weigh in on initiatives, by mail.
The city council is holding its August primary election, and November general election, almost entirely by mail-in ballots.
Instead of dozens of polling places, the council will open just six in-person voting sites on Election Day, one in each ward.
This will be the second Tucson election cycle with an emphasis on voting early through the mail.
This year the city council seats in wards 1, 2 and 4 are up for election, along with the mayor.
Democrats Regina Romero in Ward 1, Paul Cunningham in Ward 2, Shirley Scott in Ward 4 and Mayor Jonathan Rothschild have filed paperwork to seek reelection.
So far, only one challenger has emerged: Democrat Chuck Williams has filed to run in a primary against Rothschild.
Any candidates who want to run for office have until the end of May to gather sufficient signatures from registered city voters to qualify to get their name on the ballot.