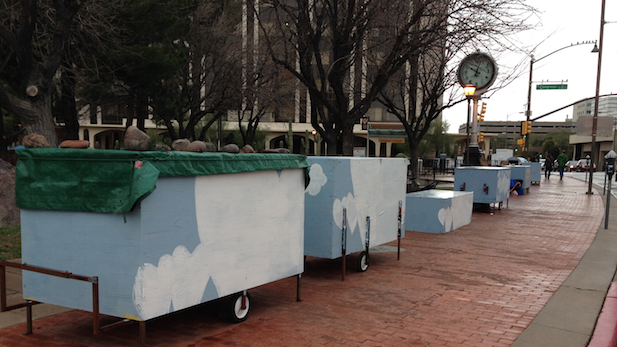 Coffin-like pods in which homeless people sleep in downtown Tucson.

Zac Baker, for AZPM
Listen:
Friday at 6 p.m. is the deadline for inhabitants of the Safe Park protest to move their wooden sleeping boxes and tents out of downtown Tucson's Veinte de Agosto Park.
At that time, what the protesters call "dream pods" will be considered a violation of Tucson's city code preventing obstruction of public sidewalks. Notices posted since Tuesday warned the protesters they were in violation.
Tucson Police Department spokesman Pete Dugan said he hopes the warning is enough to encourage protesters to pack up.
"If not, the people that are down there that would be disobeying that order. They would be subject to citation and prosecution," Dugan said.
City Attorney Mike Rankin said the city will dispose of remaining structures, but save and store personal property.
"We're not just going to roll up with some roll-offs and throw everything in and call it a day," Rankin said. "We're going to give people an opportunity to claim their property."
The "Safe Park" protest has been blamed for increased human waste on public sidewalks and, last week, it was the site of several drug-related arrests. Inhabitants of the blue human-sized wooden boxes argued their presence in the park was an expression of free speech.

U.S. District Judge David C. Bury disagreed. In a Tuesday hearing, Bury said the wooden boxes and tents are not protected by the First Amendment.
The City Council voted earlier in March to explore options for relocating the homeless people occupying the park. Rankin said the city is still considering long-term solutions for helping the homeless, but a new location has not been selected for the encampment.
Even with the wooden-box shelters gone, people may continue to sleep and sit on downtown sidewalks. That's allowed under city code between 10 p.m. and 7 a.m.