Listen:
Southern Arizona school districts will have more than 300 teacher openings for the next school year, and recruiters are scrambling to find enough educators to fill their ranks.
At least four local districts will travel out-of-state to places such as Pennsylvania, Oregon, Minnesota and Wisconsin to try finding teachers, instructional assistants and other staff.
"We're starting to do it every year," said Laura Emslie, Sunnyside Unified School District recruitment director. "We did it last May (after what) was our first job fair in probably about five or six years."
Sunnyside has more than 150 open classroom positions. The situation is not unique. Sixty-two percent of charters and districts surveyed by the Arizona School Administrators Association and the Arizona Department of Education reported vacancies last year.
Part of the problem is that fewer people are graduating from teaching programs in the state, said Renée Clift, an associate dean in the University of Arizona's College of Education. She said enrollment is either steady or declining because students see no future in teaching, and those already in the classroom are turning away.
"If you don't have a supportive school environment, if you don't have the supplies you need, if you're not making any money and you don't enjoy your job, why wouldn't you leave?" Clift said.
Arizona's average starting teacher is $32,000. The national average is $36,000, the National Education Association reported. The state also ranks in the bottom-five for per-pupil spending in the NEA's most recent report.
"If we value people, we pay them well and we say to them with benefits, with compensation and with words that we appreciate what you're doing," Clift said.
Recruiters from the Tucson area's Amphitheater, Sahuarita, Vail and Sunnyside districts will converge at the Oregon Professional Educator Fair in April. Fair coordinator Jim Buck joked the lineup could be mistaken for the Arizona recruitment fair because 10 percent of the districts registered are from the state.
"This year will be our largest recruitment fair since 2007," Buck said. "It's the first time since then that we've had more than 200 agencies register, and we've reached capacity."
Part of the draw to recruiting in cold weather states such as Oregon, Minnesota and Wisconsin is Tucson's mild climate.
"We have access to outdoor lifestyles, beautiful weather, sun," Tucson Unified School District Recruitment Director Janet Rico said. "Tucson in my opinion isn't a hard place to sell because I love it so much."
Each district representative interviewed for this story said they also focus on their district's academic achievements.
Sunnyside recruiter Emslie said she pushes the district's technology-first philosophy, including the program that guarantees a laptop for every student.
"People want to teach students that want to be taught, and I think that's what happens in our district," Emslie said.
Still, it's unclear whether that's enough to keep teachers in Arizona. A state Department of Education survey found 89 percent of teachers moved from out-of-state leave their organization within the first five years.
While the Sahuarita Unified School District is going to the Oregon recruitment fair, it's otherwise reigning in out-of-state recruitment this year. The district is looking to fill at least 70 teaching positions.
Assistant Superintendent Scott Downs said while there are quality candidates in other states, they generally stay in the district for only about three years.
"If they don't come out and get married, get engaged, start a life out here, if you will, we tend to find they end up going back home," Downs said.
When teachers depart, the problem is larger than creating a vacancy. The money and time invested in mentoring them has gone for naught.
Finding local talent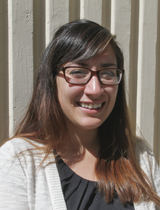 Renee Quihuis-Romero attended a Sunnyside Unified School District job fair on March 7, 2015 in hopes of securing a permanent position in the district. (PHOTO: Mariana Dale, AZPM)
Renee Quihuis-Romero is a hot commodity in Arizona's K-12 teacher market. The 25-year-old will graduate with her teaching degree in April and has been a substitute for six years.
Lucky for the Sunnyside School District, she attended its job fair and left with at least three offers.
"I would honestly want to teach anything," Quihuis-Romero said. "I've been subbing for six years, so I'm ready to have my own classroom."
Emslie, who had heard rave reviews about Quihuis-Romero, said in addition to experience, attitude is what makes someone a hot commodity.
"Probably a very outgoing personality and somebody who is relatable to the kids," Emslie said.
Quihuis-Romero eventually accepted a job at Elvira Elementary School, where she is student teaching. She doesn't yet know what grade she will teach at the South Side school, saying she is leaning toward third or fourth grade. She said she is excited to have her own classroom soon and be able to set her own lesson plans.
"I see a lot of negativity, and I don't want that to affect me in the classroom," Quihuis-Romero said. "I do know about different laws that are being passed, but I try to stay out of it for now."