Listen: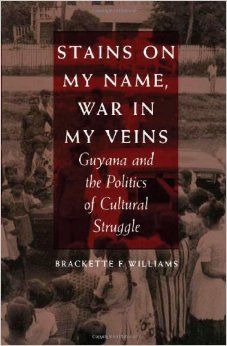 Twenty-five years ago, anthropologist Brackette F. Williams chose to travel to a small, struggling South American country to examine the sensitive issue of cultural identity.
The country is Guyana, a nation where people had declared their independence from British colonialism one decade earlier.

"Suffering and adversity become currency for moral claims," remembers Williams, now an anthropology professor at the University of Arizona, and one of the school's five recipients of the prestigious MacArthur Fellows award.
"For social and political claims that come from moral claims, for groups' efforts to position themselves in a social order, but also in some instances, to lay claim to the right to lead the nation's cultural production."
Williams received a master's degree in education from the UA and a doctorate in cultural anthropology from the John Hopkins University. Her research in ethnicity and national development among the Guyanese earned her what some academics call a "genius grant," the MacArthur Fellowship, in 1997.
"Some people call it the academic lottery," Williams says. "It's a secret nomination, so it's not like you are applying for a grant where you can have some sort of control by the proposals you write. But at the same time, it comes with no strings attached, in the sense that it doesn't designate a product. It allows you to continue the methods that you are following. In that sense, it allows you to continue to follow the process to produce research, or to get the freedom to sort of imagine method as you go along."
In her 1991 book, Stains On My Name, War In My Veins, Williams chronicled the effects of race and social standing among Africans and East Indians in Guyana. She compares it to the struggles of ethnic groups in the United States. Williams says every immigrant class faces the same challenge of determining how to fit in a complex social fabric.
"We have at times had restrictions on which ethnic groups could come in from which places," Williams says, "and have skilled workers as opposed to workers that required education before they could make a contribution to the nation. And anthropology has engaged those kind of issues in the United States and the other parts of the developed world, and in comparison to the same types of processes that rose as a result of colonialism and colonial practices of social control."
Williams says becoming a MacArthur Fellow brings with it a large degree of pressure. She notes that some recipients wonder if they are worthy of the honor, and they worry about living up to the scholarly standard that the award implies.
"I don't take that seriously," Williams says. "I've sort of plodded along through my career, doing what I think comes next, and publishing only that which I think represents my intellectual sense of an issue at a moment that I have to offer as something for publication, and that didn't really change.

"That was the joy and the pain of trying to do research that I was trying to do in two years," she says. "I don't know how other people responded, but that was my response to receiving it. It was definitely an honor."
Williams calls it a lifetime honor that comes from dedication and hard work, tying together a common cultural thread between North and South Americans.
The University of Arizona's MacArthur Fellows speaker series explores and celebrates the innovation and impact of our MacArthur Fellows' work.
Brackette F. Williams, School of Anthropology, MacArthur Fellow Class of 1997, a cultural anthropologist who studies connections between cultural identity and social relationships as they relate to criminal justice, race, and class.
Location: Cesar E. Chavez Building, Room 111, 1110 E James E Rogers Way
When: April 30, 2015 / 5:30 - 6:30 PM
Free and open to the public. Light refreshments will be served.