Listen:
This is a corrected version.
The Downtown Clifton Hotel, opening soon in downtown Tucson, is the newest incarnation of a building that started as a motel, was converted to public housing and in recent years has sat vacant.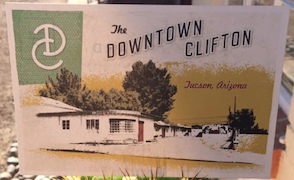 Downtown Clifton Inn
Co-owner Clif Taylor, who lends his name to the hotel, said the Clifton's style is Palm Springs mid-century with a heavy dose of Tucson mixed in: "We had this idea for doing a brutalist dude ranch in the middle of the city."
Taylor said he and his partners wanted to keep everything about the hotel as local as possible – to imbue it with a sense of place. The art hanging on walls is by Tucson artists; Taylor handmade the beds himself; the coffee beans are from local coffee shop Exo; and guests get coupons to eat breakfast at the nearby 5 Points Market.
Phil Lipman, one of Taylor's business partners, described the community's response to the new hotel: "It's just been overwhelming. How many people think it's a great idea and how many people are going to use it and are excited about using it."
The Downtown Clifton has 10 rooms and is located between Barrio Viejo and Armory Park, at 485 S. Stone Ave. According to the website, rooms will cost about $80 a night.