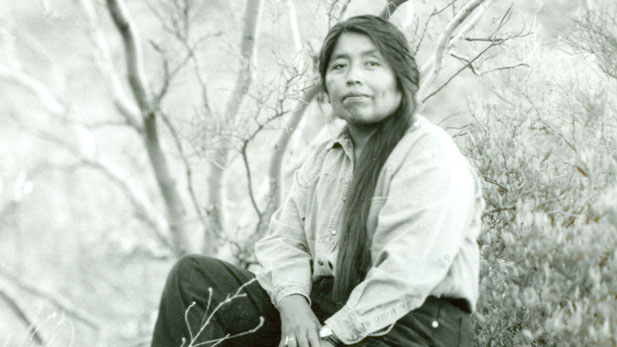 The MacArthur Fellowship Grant celebrates talent and creativity among academics, scholars, and artists. The more than six hundred thousand dollar award was established in 1981, and each year, around two dozen recipients receive the honor, sometimes called a "Genius Grant". Five MacArthur honorees are among the faculty at the University of Arizona, and throughout the month of April, you'll be hearing conversations with them on Arizona Spotlight.
To begin the conversation, Zepeda reads a short poem - first in O'odham, and then in English...
Listen:
Here is some additional interview, not used on radio:
McLemore: Where do you think your flair for languages really sparked?
Zepeda: It's hard to say. Well first of all a lot of it happened by accident. When you're a speaker of a language, you really never think about the language, you just use it.
I remember an anthropology professor who I think accidentally pointed out something unique about my language which I had no clue existed. Once he brought it up, I could see clear as day what he was talking about. That is this variation that we have between how men and women talk.

This anthropologist was an older man, and he said learned to speak (O'odham) from women. When he said that, I didn't think anything of it and then he said "so don't laugh at me when I talk."
The first phrase that the professor uttered in O'odham sounded like a woman. Women, and especially older women, have what they call a breathy speech. We have studied it and it's called an ingressive speech. They're breathing in when they are talking and this Anglo man was talking like that. To me, he was talking like a woman. I never realized that was there, I have heard it all the time but I didn't realize it because women talk and men don't as much.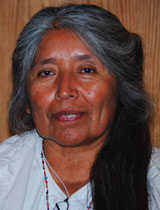 That to me was a very clear instance where you could stand back and look at the O'odham language. So, from there I started to have this interest. Even though I was a speaker, it's different when you study your own language. You have to step back a little bit and figure out what exactly this language does, look at it's structure and how it's organized. It was really by accident that I found that out and started asking questions.
The funny thing is that people here, in what was then the just newly created Linguistics Department, were interested in training native speakers of American Indian languages in linguistics so I sort of walked into that one. Again, I had no idea that there was a field of language study. That's where I ended up late in my undergraduate career.
I changed to Linguistics and have been there ever since and always working only on O'odham. I only use the speech and forms that I grew up with so that's always interesting too because when you go out to a larger population of O'odham, they sound different as well. There are some variations, a little dialect, a little regional which is interesting to be exposed to as an O'odham speaker and as a researcher of the language.
McLemore: You sort of alluded to the idea that someone was looking at your career in a crystal ball when we were talking about being chosen for the fellowship. If you were to look into a crystal ball regarding the future of the language of Tohono O'odham, what do you see?
Zepeda: Tohono O'odham, like many languages, is struggling. We have a large number of speakers still but they are all older people. When the very elderly pass on, you do lose a great deal, not just their voices as speakers but oftentimes the traditional knowledge that they held, that they grew up with, that they lived. That goes as well.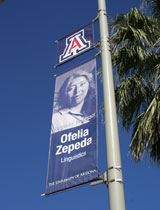 Ofelia Zepeda sign
Fortunately with many O'odham, their family structure is still such that they have extended family situations. A lot of people live together or grandparents are raising grandchildren for different reasons. Those are the young people that I will come across who know a lot of O'odham or they speak O'odham. If they came from a more isolated part of the reservation or were raised by grandparents, they have a lot of knowledge that they grew up with.
However the danger that is looming is that you will continue to lose speakers if nothing is put in place to prevent that loss. Something that is put in place so that you are producing new speakers. They don't have to even be young people, just new speakers.
McLemore: It seems like art might be one way that could help.
Zepeda: Oh definitely. I think it's any discipline. If somebody likes Science then certainly you can use that or Art as you said. There are lots of different areas that you can take advantage of as different mediums for promoting and developing an interest in language. I know people are trying different things.
At the Language Institute that I direct, we are always looking for different ways to couch language so that it's appealing to a wider audience, especially younger people. So we're looking at technology and smart phones and so forth.
McLemore: Does O'odham translate over a keyboard? Can you type it on a smart phone? You don't need special characters?
Zepeda: Yes, you can. You do have special characters but you can adapt your keyboard and there are programs set up for serving your different, special symbols. O'odham is not as complicated as far as symbols are concerned. You can even do Navajo, which is lots of exotic looking forms on the keyboard so lots of languages are handled well. It's much easier now than with a typewriter.