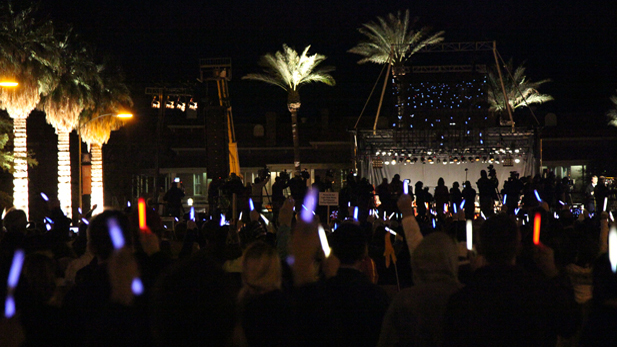 More than 2,000 supporters illuminated the University of Arizona mall during the Tucson vigil.

Mark Duggan
Listen
Jan. 8, 2011 was an unforgettable day in Tucson. The shooting that occurred at Congresswoman Giffords' "Congress on your Corner" event in Tucson killed six people and wounded thirteen individuals.
Four years later, and the final decision for a permanent Memorial design team is less than a month away.
Mary Ellen Wooten is the public art program manager with the Tucson Pima Arts Council. She said this decision is exciting, but also very challenging.

"We have four finalists who worked very hard to come up with compelling, competitive ideas," Wooten said. "We also have to acknowledge that once we have selected that finalist and they go through their design process, there will be a phase of fundraising and construction. So we are still many years away from a final product."
The main goal for the memorial is to create a place where the events of Jan. 8 are remembered and where citizens can be reminded of their critical role in self-governance.

For the next month, the January 8th Foundation urges the public to comment or make recommendations on the memorial designs online.
After reviewing the comments and recommendations the final team will be chosen in May. The memorial will be at the old Pima County Courthouse and could cost up to $2 million.