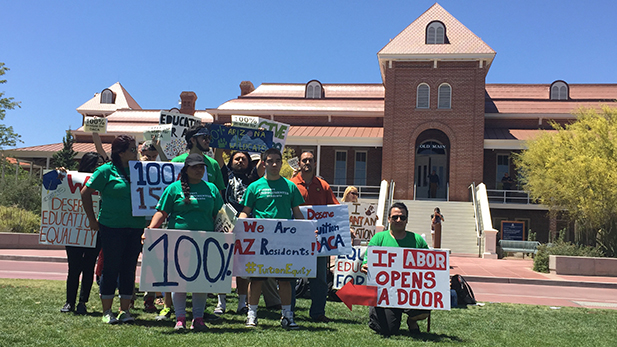 'Dreamers' demonstrate on UA campus for in-state tuition, April 29, 2015.

Vanessa Barchfield, AZPM
Immigrants granted deferred deportation status by the Obama administration will be eligible for in-state college tuition at Arizona's three public universities, the Board of Regents decided Thursday.
The regents approved the policy change at a special meeting in Phoenix, taking their lead from a Tuesday ruling in Maricopa County Superior Court, upholding in-state tuition eligibility for deferred deportation immigrant students at Maricopa County Community Colleges.
"The Arizona Board of Regents will interpret its policies in accordance with this ruling," the regents said in a statement after the decision. "This will allow ... students with an employment authorization document who meet the statutory and policy requirements for residency to establish in-state residency for tuition purposes at our Arizona universities."
These young immigrants, often called "Dreamers," were brought without authorized documentation to the United States as children by their parents or others.
They thus have been considered out-of-state students for purposes of tuition payments, despite the fact that many have lived in Arizona for most of their lives.
Ana Rodriguez, a "Dreamer" who is a mechanical engineering student at Pima Community College, said the regents' decision opens opportunities for her.
"The U of A has a great engineering program, and I kind of always wanted to go there," Rodriguez said. "I don't know if (I want to be) a Wildcat or a Sun Devil or maybe go to NAU. I haven't decided which one, but definitely I want to stay in state ... because of my family."
At the University of Arizona, newly enrolled in-state students will pay $11,403 in tuition next year. Newly enrolled out-of-state students will pay $32,630.
The Board of Regents previously considered a proposal that would charge tuition at 150 percent of the in-state rates for immigrant students who attended an Arizona high school for at least three years, graduated from it and are in the state legally but not eligible for in-state tuition.
"The board remains committed to affordable access to higher education for all eligible students," the regents' statement said. "The board is also committed to compliance with state and federal law."
The office of Arizona Attorney General Mark Brnovich issued a statement saying he is reviewing the details of the Maricopa County court case that preceded the regents' decision.
"The attorney general is very disappointed by the recent ruling in the MCCCD case, which can also have implications for other issues beyond in-state tuition," spokesman Ryan Anderson said in the statement.
"Despite the trial courts ruling, Attorney General Brnovich does not believe that President Obama has the right to unilaterally rewrite our immigration laws and roll over voter approved initiatives," the statement said. "General Brnovich remains committed to defending the rule of law and the will of Arizona voters. We are evaluating all options, including a possible appeal."
President Barack Obama in 2012 issued an executive action granting temporary legal status to the young immigrants who met several criteria. Hundreds of thousands registered for deferral of deportation, which included work permits.
In Arizona, state officials resisted the legalization, led by then Gov. Jan Brewer, who issued her own executive order banning "Dreamers" from being issued driver's licenses. That has been overturned in court, but new Gov. Doug Ducey has said he will pursue an appeal.
The moniker "Dreamers" comes from federal legislation called the DREAM Act, which would open a path to legalization for such young people. The acronym DREAM means "Development, Relief and Education for Alien Minors."
The legislation has not passed either chamber of Congress.