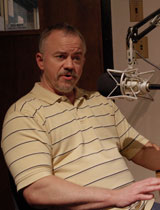 Michael Woodward is working to increase awareness and understanding about transgender residents. (PHOTO: Megan Roxbury, AZPM)
Attorney Abby Jensen says transgender residents often face many legal challenges, such as changing government IDs. (PHOTO: Megan Roxbury, AZPM)
What began as a grassroots movement in 1998 has turned into an official non-profit organization that is helping people in the community of "trans identities" including transsexual, transgender and gender fluid identifications.
SAGA is an all-volunteer organization that provides support groups, education and services.
For example, government identifications can be difficult to deal with for people who were born of the male or female sex but who identify with or are transitioning to the other gender.
"Trying to live life presenting as a woman but having a driver's license that has 'M' on it and a guy's name is really stressful and can lead to harassment and violence," Abby Jensen said, an attorney and volunteer with SAGA.
Listen:
Michael Woodward is also a volunteer with the non-profit organization.
Woodward says the group's goal is to increase awareness and understanding within all members of the southern Arizona community, regardless of sexual orientation, gender identity or other demographics.
"We're just folks, we're people. There's so many misunderstandings about what our motives are and all that. You know, I'm just trying to figure out my life just like everybody else," Woodward said.
SAGA is holding an event to celebrate the group's new life as an independent organization.
The "Tipping Point Party" is Saturday May 9 from 7 pm to 11 pm at Fluxx Studios, 414 E. 9 Street in Tucson. The event is free and open to the public.