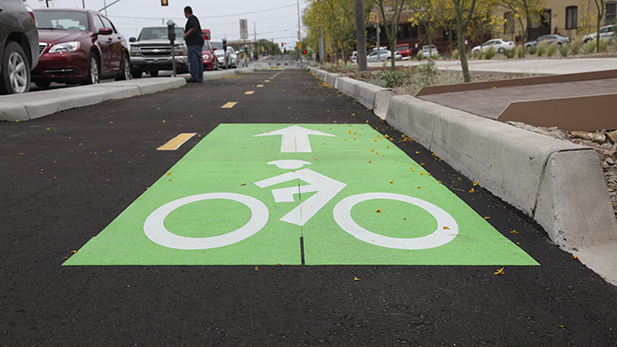 A protected bike lane on Stone Avenue between Toole Avenue and Alameda Street.

Andrea Kelly, AZPM
Listen:
Kris Vrolijk bikes from River Road into the midst of downtown to get to his job at Proper restaurant.
"It feels better, and parking downtown stinks," Vrolijk said. "It's just easier to pull up and lock up a bike."
A recent report from the city of Tucson's Bicycle and Pedestrian Program shows Vrolijk is part of a growing group of cyclists in the city.

The number of cyclists counted in the Pima Association of Government's annual tally increased 3 percent from 2012 to 2013.
Tucson is responding by building more bike lanes, parking areas and intersections meant to increase safety for bicyclists and pedestrians.
"The city is really shifting our focus to building facilities that reach a broader audience of people that might be interested in biking," said Bicycle and Pedestrian Program Manager Ann Chanecka.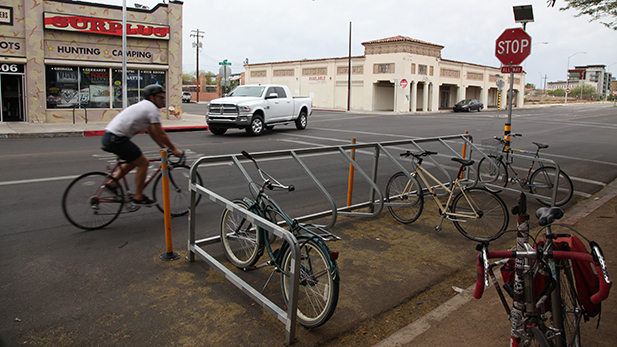 On-street bicycle parking on North 6th Avenue at East 7th Street.

Andrea Kelly, AZPM
Inside the report:
- There were 1,010 miles of bikeway counted in 2014. A decade ago, there were 348 miles.
- The city is starting to use "road diets." This means reducing the lanes of travel for cars to create turn lanes and lanes for bicycles.
- HAWK ("High-Intensity Activated Crosswalk") designed for pedestrians are being retrofitted to better serve people on bikes.
- On-street bike parking can now be found outside several businesses, including Exo Roast Co., Tap and Bottle and at Main Gate Square.
- The city has designated $3.5 million to sidewalk improvements.

The report will be repeated in the future, Chanecka said, but not on an annual basis.
View the full report here.