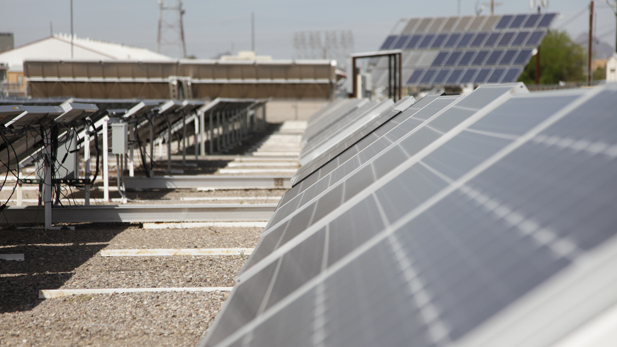 Zac Ziegler, AZPM
Part 4 of our special four-part series exploring the solar industry in Arizona
Listen:
If making Arizona the Persian Gulf of solar energy is the quest, then part of the journey is taking place at a University of Arizona facility in Vail.
Tech Park Arizona is home to a group of companies looking to advance solar power, taking it from powering individual homes to entire communities.
"We completed phase one of that site, which now occupies about 165 acres and has nine companies testing and demonstrating a wide variety of solar technology," said Tech Park Arizona Associate Vice President Bruce Wright.
The work being done at Tech Park would help take large-scale solar to the next level, allowing it to become a primary power source.
Chief among the concerns for these companies is finding out which technologies work best in the harsh Arizona desert.
"We're able to compare them side-by-side holding a lot of the variables constant: land, weather, sight, grid integration," Wright said. "That really allows you to then really understand which systems or which technology performs the best."
At current, renewable energy sources like solar make up a small percent of the energy portfolios of the state's biggest utilities.
In 2014, about seven percent of electricity sold by Tucson Electric Power came from renewables. Arizona Public Service had a slightly higher total, around ten percent.
Utilities are interested in large-scale solar power though. TEP was one of the first companies to start working on solar at Tech Park AZ.
"It's certainly getting more cost-effective all the time, but it's not there yet," said TEP spokesman Joseph Barrios. "Traditional generating sources like coal are still, generally speaking, less expensive."
The installations are much larger in scale than the rooftop solar arrays that are popping up around Tucson.
One of the experimental fields is a five megawatt installation made up of 21,294 solar panels covering 34 acres.
That's the equivalent of more than 700 typical rooftop solar installations.
"There are some promising technologies out there, but from a cost perspective, it still has a ways to go," Barrios said.
Financial balancing act
Utilities like APS and TEP are watching solar carefully because they must strike a balance between two rules put in place by the Arizona Corporation Commission.
The first, says utilities must charge their customers a "just and reasonable" rate, meaning the must keep low prices in mind when deciding where their power comes from.
The second mandates electric utilities phase in renewable energy, ultimately having renewables make up 15 percent of energy sold by 2025.
That has utilities keeping one eye on technological advances and the other on costs.
Solar is very promising in Arizona, but it does have one notable downside.
"At night, people want power then too," Barrios said. "We're just starting to look at storage technologies."
TEP, APS and some companies at Tech Park Arizona have started to venture into the world of storing solar power for nighttime use.
"A real critical issue right now is 'how do you store the energy?'," said Wright. "We're looking at a variety of ways to store solar energy."
Future of solar is BIG

There's also work being done elsewhere in Southern Arizona that could bring a wholly new approach to turning sunlight into electricity.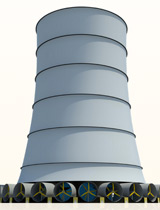 Solar Wind Energy Tower, Inc.
On the Mexican border south of Yuma, in the town of San Luis, construction is about to start on a project that would use air dried air by the blazing sun to make solar power.
This project would be hard for passers by to miss– it would be the tallest structure in the U.S.
The 2,200-foot tall Solar Wind Energy Tower would be the second tallest structure in the world, standing a little taller than the 128-story Shanghai Tower.
"It looks like a cooling tower that you'd see beside a nuclear power plant," said Ron Picket, managing member of AZ Green Power, the company developing the tower.
The tower, in theory, will act similarly to a nuclear cooling tower in reverse.
"We're taking the hot, dry air that's in the atmosphere and as it comes across the top of the tower, we're injecting measured droplets of water," said Picket.
The droplets will make the air heavier than the dry air that sits below it in the tower, thus causing it to sink.
"Then at the base, the wind, the downdraft wind, is diverted sideways into these tunnels that surround the tower," Picket said. "And inside those fully-enclosed tunnels are two turbines."
As the air exits, the wind pushes the turbines.
If the project works as designed, the turning of those turbines would generate large amounts of power, about 1,250 megawatt hours.
That's roughly what Hoover Dam currently generates. Its power creation is down because the low level of water in Lake Mead.
"That's about [the same as] 10,000 acres of solar panels or 100,000 acres of wind," Pickett said.
The total footprint of the Solar Wind Energy Tower facility would be about one square mile, with the Tower taking up a small portion of that land.
Construction on the tower is set to begin later this year, so long as enough utilities sign on to buy power from AZ Green Power once it is generating.
If all goes well, the project could be operational by 2018.
A project like the Solar Wind Energy Tower fits well into an idea of Arizona being the Persian Gulf of Solar.
"Arizona is almost like an industrial source of green power," said Pickett. "You may not need it all in Arizona, but your neighboring states do. It's like the place to put your plant. You know what I mean? You put the plant here and sell your product next door."
Others think there could be value beyond just turning sunlight into electricity.
"The opportunity for Tucson is not being the largest site of solar generation, but being the thought leader for solar energy development and deployment," said Tech Park Arizona's Bruce Wright.
So whether Arizona becomes the Persian Gulf of solar power or the Silicon Valley of solar technology, Arizonans – including residents, researchers and the utilities – are putting the state in a place to change how the future is powered.

For more coverage on the solar industry in Arizona,
click here
.