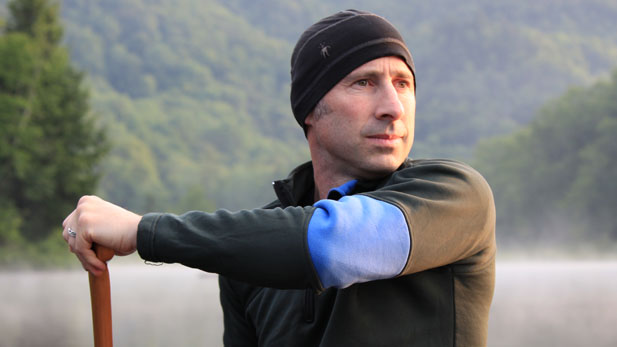 Sean Prentiss, author of "Finding Abbey"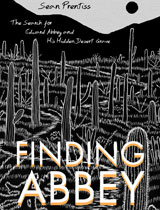 The words and philosophy of Edward Abbey have spread far from his beloved Southwest desert since his death in Tucson in 1989. He was age 62.
Abbey asked some of his closest friends to take him from his deathbed to an undisclosed location in the Sonoran Desert, where they buried him in his sleeping bag.
That legend loomed large over author and creative writing professor Sean Prentiss' personal quest to follow in Edward Abbey's footsteps, re-tracing his path across Arizona and New Mexico during the time when he wrote his most famous books, including The Monkey Wrench Gang and Desert Solitaire.
Prentiss' non-fiction account of what the journey taught him about Abbey, the Southwest, and himself became the book Finding Abbey, published by the University of New Mexico Press.
Listen:
Here is a brief excerpt from Finding Abbey, provided by author Sean Prentiss and UNM Press:
ABBEY COUNTRY
"A secret too-much revealed loses all its magic." - David Petersen
October 16—Abbey Country, the Desert Southwest
In late evening, Haus and I stumble, exhausted, back to the Jeep. Even after a long day of failure in our search for Abbey's grave, we smile because we have traveled far within this great desert in search of something larger than a grave. For tonight, that is more than enough.
As we swallow huge gulps of water blanketed by the hot night air, we talk about our plan for tomorrow, our final day of searching. Since today we scoured the two areas where we hoped Abbey's grave would be, we shrug our shoulders as we talk about where next to search. We don't have a clue.
Finally, Haus and I decide on a whim to search a wild-card spot tomorrow, a spot neither of us has ever anticipated traveling to, a spot we had never envisioned as we thought about our search for Abbey's grave. But we have nothing left. We were wrong in our planning. Our clues have failed us. We are out of options, and we are running out of time.
So on the edge of the dark of night, we climb into the Jeep, and after a quiet day with only a few birds and a subtle breeze as company, we are startled by the snarl of the engine. I put the Jeep in gear and drive. We cover a distance (a single mile or a thousand miles from last night's camp? Distances are so tricky in the desert) and park on a dirt road.
When I shut off the Jeep's engine, we are parked deep inside Organ Pipe Cactus National Monument, where Abbey had said he wanted to be buried. We're still in the Sonoran Desert, so the clues I've compiled still make sense.
A photo taken at Cabeza Prieta National Wildlife Refuge by Sean Prentiss
Wait, no. Before the car's engine has cooled, we realize that it must be Saguaro National Park, near Abbey's Tucson home, where he is buried. That's the only thing that makes sense. So we race northward and arrive just as the sky goes crazy with sunrise.
Just as we're about to begin our Saguaro search, one of us, maybe Haus, decodes a new clue and discovers that Abbey's even closer to Tucson, somewhere he could be carried immediately after his death. So we race off to Ina Road. We head for the spot where Abbey first tried to die. Yes. This must be it. And everything about being buried in the Cabeza Prieta was just Abbey's friends monkey wrenching one more time.
But as we drive toward Ina Road, we realize that our clues are wrong. So we weave our way up and over Mount Lemmon to Oracle, wait, no, to Wolf Hole. Abbey never lived in either spot (though he claimed to in his books), but that is where he must be buried. He finally makes those places home.
Or, in the dead of night, we realize that the Tucson region is all wrong. So we race past a Phoenix night that glows like a supernova, tonight brilliant but soon about to fade away to nothing. We drive past Flagstaff before dawn and fall asleep as the sun breaks over the gapping yawn of the Grand Canyon. This is where we will find Abbey's grave—right here—because Abbey once, in 1949, almost died in a side canyon of Havasu Canyon, trapped on a remote ledge without rope. What better place to call your final home than where you once almost lost your life?
Or maybe we leave the Cabeza Prieta and drive all night with the hammer down, sneaking into Arches National Park at dawn on Willow Flats Road. We park outside the work station, realizing Amy, the SCA volunteer from Arches, was right about Abbey being buried beneath that pile of gravel where his trailer once sat.
No, no, no, we realize with a start. He's at Grand View Overlook in Canyonlands, under a pile of rocks, gazing out upon the White Rim. So we drive there in the empty stretch of night.
But after all the miles of driving, we come to see that all of those locations are ghost chases leading us nowhere, so we park at the top of Comb Ridge. During the midnight hour, we hike past Ancestral Puebloan ruins only to realize that we're in the wrong canyon and we need to drop into the frigid waters of the Black Hole of White Canyon, near that damned Lake Foul.
No, we realize again—all of these places are wrong. Abbey's grave is in the Maze. How could we not have realized? Now we just need to find a way in. And a way back out.
Or the grave is right under our noses.
Wherever we drive to, wherever we end up, we wake the next morning as deep into Abbey Country as one can get. David Petersen spoke about this idea of Abbey Country during our interview in Durango: "Every place that Ed ever was, that he ever wrote about—the whole Moab area, southeastern Utah, Cedar Mesa, the Sonoran desert—since people didn't know where Ed was buried, his spirit was there. I can't go to any of those places today, especially the canyon country, without feeling Ed's spirit. He's the closest thing to a real ghost I've ever known."
David continued, "But Ed is buried in Abbey Country. Ed is buried in the kind of place that he loved, that he spent his life in, that he wrote about, that you may know, that you may love. That's where Ed's buried. He's buried in the American southwest, in Abbey Country."
And as we step out of the Jeep, we realize that Dave is right. Abbey's ghost, his spirit, his presence is everywhere in the West. I felt Abbey's ghostly presence in Arches National Park as I drove in long lines of industrial tourists. I felt it when I gazed upon the American-Mexican border and saw where economic refugees trickled across the dividing line. I felt Abbey's presence in the slot canyons of the Needles. I felt it even in the cities he called home. It's as if his words and his ideas settled down upon all the lands of the American West.
And since Haus and I can feel his presence almost everywhere, we choose a spot because it is deepest in Abbey Country. We choose a spot because it's centered within the myth of the American West. We choose a spot where we feel the presence of Abbey like a ghost—unseen but felt. The spot we choose is chosen almost at random because just about anywhere out here is infused with Abbey's spirit. Almost anywhere could be a perfect home for Abbey's grave. All of the American West is his final home.
So we choose this new spot, and here we will begin our final search for Abbey and his ghost grave. And wherever Haus and I stand, we are in the red wasteland of alluviums and arroyos and bajadas. We are in rocks and sands and seas of a million colors of tan. We are in the dry heart of this world with its buttes and detritus and hogbacks. This is where Haus and I stand.
We stand in the back of beyond, beyond the wall, where fire is on the mountain, where brave cowboys still ride, journeying home down the river, in the solitary desert, in the hidden canyon where Seldom Seen and Hayduke still live, where good news is still sung, where one man can share his soliloquy, his voice crying in the wilderness.
This is where Haus and I stand—in the dead center of Abbey Country. This is where we begin our final fool's progress.
Excerpt from Finding Abbey, provided by author Sean Prentiss and University of New Mexico Press.