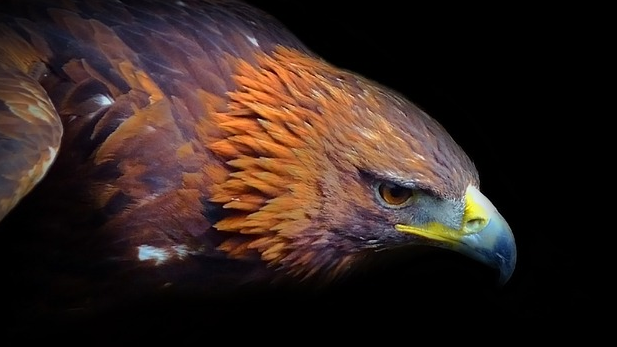 Listen:
By Laurel Morales, Fronteras Desk
The eagle, long a symbol of pride and freedom to many U.S. citizens, is much more to the first Americans.
Native Americans hold eagles and their feathers as sacred and for centuries have used them in traditional ceremonies. Only members of federally recognized tribes are allowed to possess the feathers.
Thus, it's not easy to obtain them legally. At the Navajo Zoo and Botanical Park at Window Rock, zoo keeper Lionel Tsosie is working to change that.
"They are considered the first people in our culture, in our teachings," said Tsosie as he checked on four golden eagles that live at the Navajo Zoo. "They're awesome birds. I love 'em."
Tsosie said Navajo people use eagle feathers to celebrate an accomplishment such as graduation, to protect themselves from harm and to pray.
"Eagle feathers are highly prized and a lot more sacred than the other feathers," he said. "The eagle can fly up into the heavens. And they want their prayers to be heard and taken up that far."
Obtaining eagle feathers can be problematic for Native Americans. That's largely because federal laws protect eagles and their feathers, with fines of up to $250,000 or imprisonment for up to two years for taking, harming or possessing an eagle or its feathers.
Until recently, if a Navajo medicine man wanted to get an eagle feather legally, he had to apply to the U.S. Fish and Wildlife Service. After several months the federal repository would send the feathers. It can take five years for a whole bird.
"There's a long waiting list for those birds and feathers," said zoologist David Mikesic, who has worked on the reservation for 20 years and has seen birds injured or killed for their feathers.
"The latest eagle came in three years ago," he said. "She had a gunshot wound to one of the wings and it was clearly unrepairable. Kinda lets you know how sought after they are."
And there's a demand for the feathers on the black market, where a seller could get up to $1,500 for a tail fan, Mikesic said.
"That's a significant amount of money," he said. "That would require basically killing the bird. If you remove all of the tail feathers from an eagle, it's not going to be able to fly, and if it can't fly it can't hunt. And if it can't hunt it can't eat, and it will die."
Joe Early, the U.S. Fish and Wildlife Service's Southwest tribal liaison, said the demand and big money make it tempting.
"You see European collectors big into authentic Western and Native American apparel," Early said. "Something illegally sold here may sell for tens or hundreds of thousands of dollars overseas."
Fish and Wildlife is trying to crack down on the problem, Early said, including making the feathers more easily available and tracking them. So federal agencies have worked with tribes to help them start six eagle aviaries, including the one at the Navajo Zoo.
"We've provided upwards of 500 feathers," Mikesic said. "And these are feathers that are naturally shed. We don't pull them from the birds. We want to make sure all Navajo people that need or want a feather can obtain one legally."
Mikesic said every feather that leaves the zoo is photographed and tracked and, so far, none has been linked to the black market.
The Navajo Zoo recently received a federal grant to build a bigger aviary to house more eagles and provide more feathers.