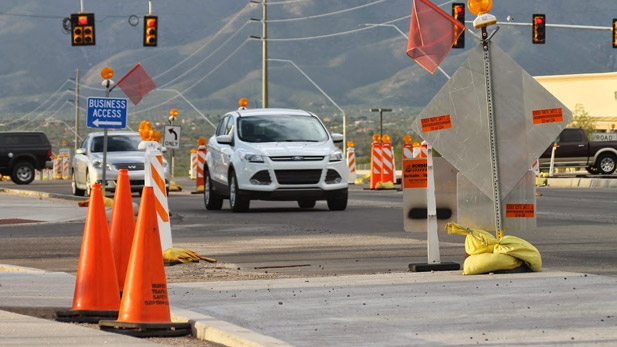 AZPM Staff
Listen:
The surface of a Tucson road can be 45 degrees hotter than the ambient air temperature, and that means even at night, it's too hot for city road crews to do some pavement maintenance.
The city has been applying what's called a fog seal to some roads to help keep them in good condition for a longer period of time. The seal is a protectant that helps prevent potholes from forming. It keeps pretty good roads from getting bad quickly.
But with highs in the 110-range this week, nighttime temperatures are not getting cool enough to do the work, said Albert Zuniga, an engineering project manager for the Tucson Department of Transportation.
"We ran into a situation where the roadway surface temperatures are extremely high, so we decided to postpone the fog seal for the fall when temperatures are a little lower," he said.
The seal is an thin coat of emulsion that includes oil. If it's too hot, Zuniga said, it won't work correctly.
"It tracks the oil beyond the project limits," when vehicles drive over it, he said. "It stays sticky, it doesn't set up, and it doesn't cure quick enough."
The city almost always pauses its fog seal program in late summer, this year, it's happening sooner. Road work will pick up in the fall, when nighttime temperatures cool down.