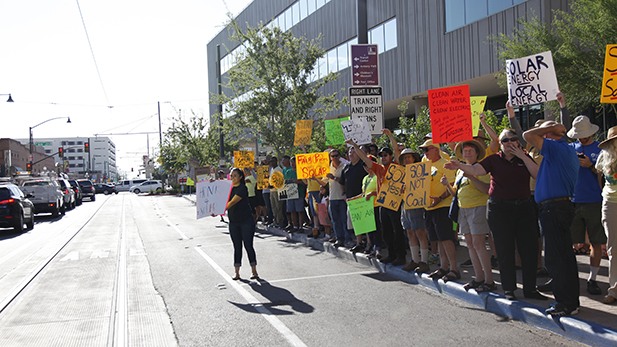 Listen:
More than 100 solar activists gathered in front of Tucson Electric Power's downtown headquarters Monday morning.
They were carrying signs advocating for an increase in the role of solar power in TEP's energy mix and a decrease in its use of fossil fuels.
Among the solar advocates at the protest were some local solar panels installers.
Many solar installers say while the number of potential customers asking for quotes has remained steady, the number that sign contracts is dropping. They blame TEP.
TEP recently withdrew a request to the Arizona Corporation Commission to change its net metering rate, but announced it will seek the change again as part of its rate case for 2017.
The change TEP is seeking would be retroactive to June 1, 2015.
That puts solar installers in a bind. They say they cannot give accurate estimates to customers of how long it would take for solar panels to pay off because they don't know what TEP will pay them for excess solar power.
"What we've been seeing is that there are people saying they're just going to wait to find out," said Solar Store President Katharine Kent. "We haven't had to lay anybody off yet, but if this continues, that's what's going to happen."
TEP has yet to file a rate case with the Corporation Commission, meaning there is no timeline for when the net metering rate for solar installations completed after June 1 will be concrete.
A Corporation Commission spokesperson said the commission has never granted an 18-month retroactive rate change, but past cases have not dealt with solar power, so there is little precedence for what the utility would be asking for.
MORE:
Arizona
,
Business
,
Pima County
,
Economy
,
Environment
,
Jobs
,
News
,
Solar
,
Technology
,
Tucson
,
U.S.